Both the US and China deserve better than TPP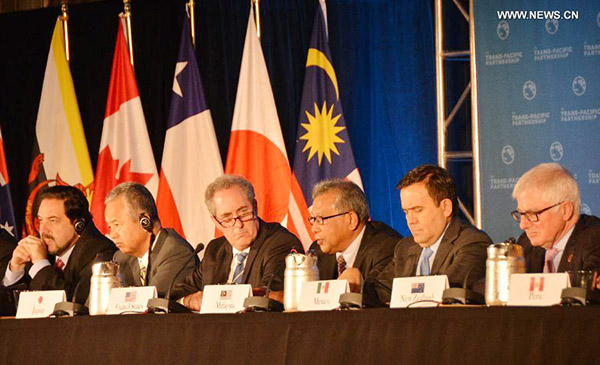 Trade ministers of the United States and 11 other Pacific Rim countries attend a press conference after negotiating the Trans-Pacific Partnership (TPP) trade agreement in Atlanta, the United States, on Oct. 5, 2015. [Photo/Xinhua]
In spite of the White House's continuous insistence on there being "a strong case to make with regard to the Trans-Pacific Partnership Agreement", chances are it will not get approved in the remainder of US President Barack Obama's term.
However, it might be too early to announce the demise of the TPP. Despite US President-elect Donald Trump's repeated pledge to scrap it on the campaign trail, who knows what he will do when he enters office.
Of course, Beijing is understandably relieved that the exclusive, economically inefficient, politically antagonizing TPP is looking ever less likely to materialize by the day. After all, the trade grouping has been essentially driven by the US' strategic considerations and meant to counter China's economic influence in the Asia-Pacific.
But the US should rest assured the sky will not come tumbling down even if the TPP does get killed at the hands of the next president. Instead of lamenting, its proponents should congratulate themselves on dodging a bullet, as the pact is inopportune. Because, what actual benefits will the TPP bring to the US as a country and its workers, whom the deal is claimed to serve, should it go ahead and pit Beijing and Washington more firmly against each other? Very few, if any.
The anticipated setback offers a precious opportunity for decision-makers in both Beijing and Washington to reevaluate the state of affairs, and recalibrate their respective approaches.
China and the US are not allies, and are not likely to be in the foreseeable future given their dramatic differences. But that does not mean they cannot be partners.
Beijing has been persistent in pursuing peaceful co-existence with the US. Its enthusiastic proposal of and insistence on a "new type of major-country relationship" between the two countries deserves something better than the TPP.
In their first conversation on the phone on Monday, Beijing time, Chinese President Xi Jinping and Trump exchanged wishes for better ties and promises of cooperation, which is hopefully propitious for the upcoming Trump era.
The incoming administration should realize that the more open, inclusive Regional Comprehensive Economic Partnership will turn out to be a far more efficient vehicle for advancing US interests. Washington may want to take advantage of the nascent, evolving platform and become involved from the rule-making stage.
US influence in the Asia-Pacific will not abate if the Trump administration chooses to engage with the region constructively.