Globalization 2.0: Seeking more choices in free trade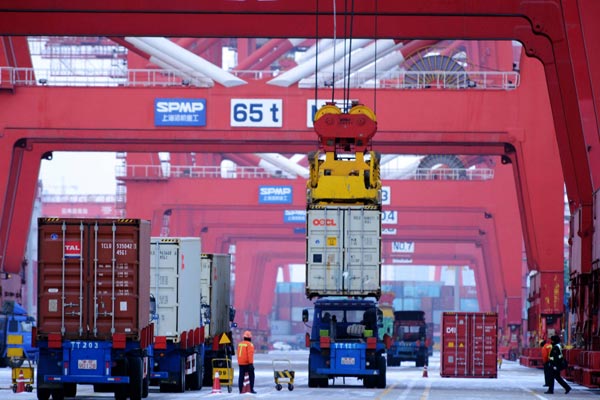 A ship loads containers at a terminal in Qingdao, Shandong province. [Photo/China Daily]
Comments on the first US presidential debate abound. Many focused on what people heard or how they interpreted what they heard. What was conspicuously absent in the debate was the two candidates' readiness, or at least courage, to redefine the United States' role in free trade and globalization.
The performances of the candidates should not be seen as a matter of course, a deliberate performance of technical ambiguity in the face of popular politics.
By the way, the attempt at the debate to make China a scapegoat for the alleged evils of free trade and loss of jobs in the US was ill advised, especially because less than a month ago, at the G20 Summit in Hangzhou, some foreign business leaders said it is China that is championing free trade and globalization now.
To put its principles into practice, China has been making sincere efforts to reduce overcapacity and lower manufacturing costs.
It has not attempted to stop factory jobs, which flourished in the country for decades, from relocating to neighboring countries with cheaper labor cost.
It's not that China has never been threatened by unemployment. But look at the opinions in the media, even social media, to see that even those with the utmost patriotic fervor seldom complain about foreigners stealing Chinese jobs.
China has declared to the world that it is not interested in engineering a drastic currency devaluation, something many other countries, developed and developing, have done to protect their economies.
China is investing and spending (through tourists) more abroad than the amount it receives from overseas as investment and tourism revenue.
And it has been reiterating its commitment to reform, even though the process is becoming increasingly difficult.
All these are China's real efforts to promote free trade and globalization. They are important actions to back up its principles at a time when shunning principles has become not only a fad for campaigning politicians, but also a threat to millions of workers in the developing world.
China's principle on free trade and globalization is different, and better, from the developed world's: It does not come attached with political strings, let alone outside intervention and regime change.
It is based on the belief that economic development, especially for impoverished communities, should come before they reach the stage where they can choose their way of life.
China's globalization concept used to be sneered at by its arrogant critics, who nowadays, in face of the rising "new right" in their societies, would rather not talk about it.