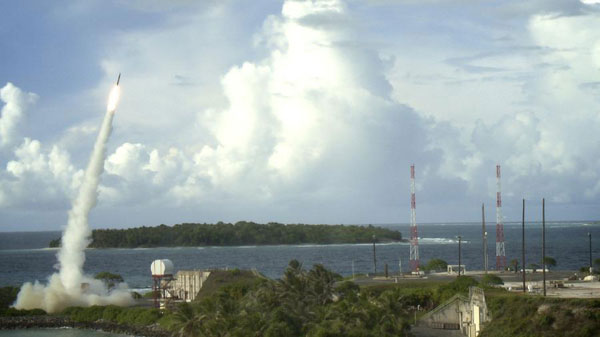 A Terminal High Altitude Area Defense (THAAD) interceptor is launched during a successful intercept test, in this undated handout photo provided by the US Department of Defense, Missile Defense Agency. [Photo/Agencies]
Since the United States and the Republic of Korea announced the deployment of the THAAD anti-missile system in the ROK on July 8, the situation in Northeast Asia has deteriorated.
At the recent Asia-Europe Meeting summit in Mongolia, Chinese Premier Li Keqiang did not meet with ROK President Park Geun-hye for talks although he held extensive and in-depth discussions with a number of other leaders.
A few days after the deployment of the Terminal High-Altitude Area Defense system in the ROK, the Democratic People's Republic of Korea warned that it would respond. It test-fired three ballistic missiles on Tuesday in an apparent reaction to the planned deployment of the advanced missile interception system, and Seoul has said Pyongyang is preparing to conduct a fifth nuclear test, which, if true, will add more uncertainties to the regional situation.
The deployment of THAAD will break the established delicate strategic balance in Northeast Asia and likely spark an arms race in the region. Given that the system's radar will be able to monitor the missiles of neighboring China and Russia, the two countries will inevitably intensify their defense facilities.
Northeast Asia has long been plagued by such issues as the legacy of suspicion from the Cold War, territorial disputes and issues of history, and thus mutual trust among relevant countries remains fragile. The deployment of THAAD is expected to reduce the level of trust among countries to a new low and further fuel tensions. In a sense, the negative influence of the deployment of THAAD in the ROK is similar to that of the Cuban missile crisis.
THAAD's presence in the ROK will also deal a serious blow to ongoing international efforts to push for a nuclear-free Korean Peninsula and undercut previous cooperation among China, the US and the ROK in dealing with the DPRK's nuclear developments.