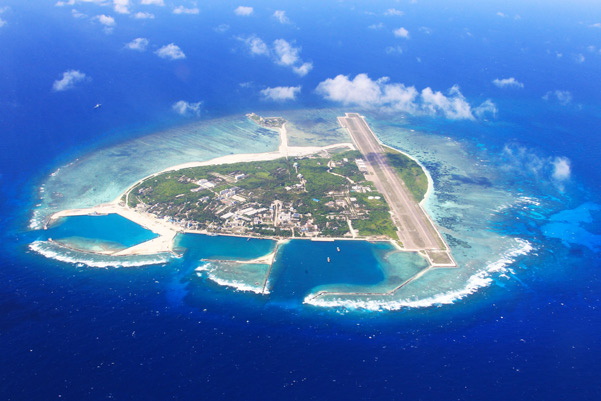 Yongxing Island is home to the government of Sansha, China's southernmost city. [Photo/Xinhua]
The United States and some of its allies are already eying Tuesday as a day of triumph, as they believe the Arbitral Tribunal in the South China Sea arbitration will rule against China in a case unilaterally brought by the Philippines over their South China Sea dispute. Much fanfare can be expected should the farce directed by Washington finally reach the climax it anticipates.
But before it makes any ballyhoo depicting China as a bully disrespectful of international law, the US should bear in mind it will be standing on shaky ground should it choose to trumpet the observance of international rules.
It has yet to ratify the UN Convention on the Law of the Sea that it claims to seek to safeguard. And its track record in respecting international laws is poor. The report of the United Kingdom's official inquiry into the Iraq War shows how the US and its allies bypassed the United Nations to illegally invade that country, which resulted in the deaths of hundreds of thousands of civilians.
So like the ruling itself, a new round of US mudslinging against China will not stick. It will not change the fact that China holds historical claims and sovereignty over those islands and reefs in the South China Sea, nor will it shake its resolve to defend every inch of them.
But still China has to stay on high alert, for the US military has been trying to turn the previously tranquil waters in the region into a sea of troubles. Three US destroyers have been patrolling near Chinese isles, and the aircraft carrier USS Ronald Reagan and supporting vessels are also in the South China Sea in "a deliberate show of force".
Escalated US military provocations cannot be ruled out in the wake of the arbitration ruling should it be able to claim that the ruling "justifies" them. After all, keeping tensions high serves the US' interests and helps justify its huge military presence in the region as part of its "rebalancing to the Asia-Pacific" strategy.
Such belligerency would put to the test the capabilities of the People's Liberation Army to cope with what would become an ever more complicated situation.
China has consistently called for negotiations and consultations to peacefully solve the maritime disputes. So it is a welcome change to see reports that Philippine President Rodrigo Duterte has said his administration will begin direct talks following Tuesday's ruling, on topics such as jointly exploiting natural gas reserves and fishing grounds.
Let us hope this will be the start of the process to defuse the tensions in the South China Sea.