DPRK changing course will lead to peace talks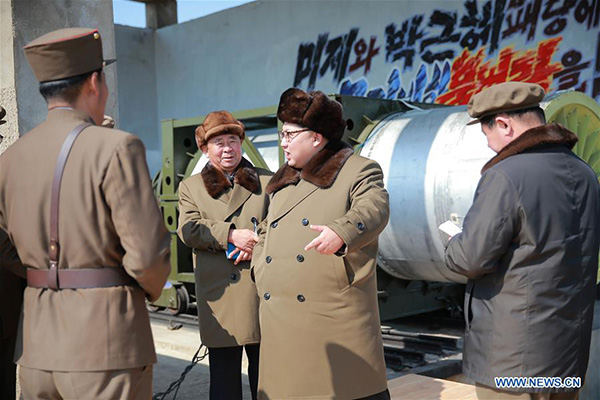 Photo provided by Korean Central News Agency (KCNA) on March 24, 2016 shows the top leader of the Democratic People's Republic of Korea (DPRK) Kim Jong-un guiding a ground test for heavy-lift, solid-fuel rocket engine and its separation. [Photo/Xinhua]
Beijing has two goals on the Korean Peninsula: peace and denuclearization.
So while Wu Dawei, China's special representative for Korean Peninsula Affairs, is in Tokyo seeking coordination on restarting the Six-Party Talks, the Commerce Ministry announced a list of commodities to be embargoed to and from the Democratic People's Republic of Korea.
Since China's full-hearted participation is crucial for the new United Nations' sanctions to have effect, the embargo should be a welcome indication that Beijing is serious about its vow to "conscientiously" implement the sanctions.
And with Beijing on board, the sanctions have begun to bite. The DPRK just called on its people to prepare for another "arduous march", during which they "will have to chew the roots of plants once again".
In a break from its all-threatening rhetoric, the DPRK made a plea on Sunday for talks with the United States, saying "maintaining stability" is "more important than unilateral sanctions", and a "better solution can be found through negotiations".
The DPRK's softer approach may offer a window of opportunity for defusing the tit-for-tat actions that have raised tensions on the peninsula. Wu's latest push for resuming the Six-Party Talks makes sense in that respect.
But just as he experienced on similar missions to Washington and Seoul, besides words on closer collaboration to execute the sanctions, he has received no pledge on restarting the talks.
Japanese Foreign Minister Fumio Kishida said earlier the precondition is Pyongyang shows credible moves oriented at denuclearization. Citing Pyongyang's credibility problem, the Defense Ministry of the Republic of Korea has said now is not the time to talk with Pyongyang, and Seoul will instead focus on sanctions.
So no matter how hard Beijing works to revive talks, they simply will not happen until Pyongyang convinces the others of its sincerity about denuclearization. Something that appears unlikely at present.
Not just because Pyongyang has a credibility crisis. But, more importantly, it seems determined to pursue its nuclear capabilities.
Following its recent nuclear test and rocket launch, satellite imagery has reportedly detected "suspicious", "unusual" activity at a nuclear complex in the DPRK. If it is trying to simply buy time for a fifth nuclear test with its request for talks, Pyongyang does not deserve the benefit of the doubt.
Beijing should avoid playing into Pyongyang's hands by single-mindedly advocating for peace. Peace-brokering should never be at the price of appeasing Pyongyang's nuclear ambitions.