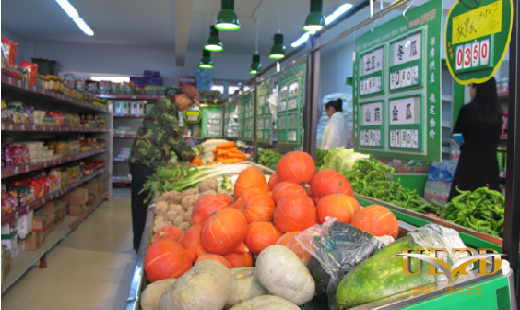 Toutunhe district locals getting vegetables at a fairly reasonable price. [Photo/Agencies]
SPECULATING ON VEGETABLE PRICES, illegally charging traders, an investigation of Haikou Nanbei Vegetable Market, in Southern China's Hainan province, has uncovered one problem after another. However, the authorities say they cannot shut it down because it is the only channel for selling vegetables in the province. It is time to break the monopoly, says Beijing Youth Daily:
Reports show that the vegetable market accounts for 75 percent of the province's wholesales of vegetables. It is a monopoly supported by the market managers to speculate on vegetable prices and illegally make money from businesspersons.
The monopoly has already led to abnormally high vegetable prices in Hainan. Many may argue that Hainan is an island and it is the transportation to the island that pushes up the prices, but the market's virtual monopoly has also helped do so, as confirmed by the local law enforcers.
The correct move is to find out how the market came to dominate the wholesales of vegetables on the island and allow more competitors to enter the market. Reports say the market managers have made huge profits; if that's true, more competitors will gladly enter.
It should be especially noted that by introducing new competitors, local authorities should not discriminate against either State or private capital. Some experts hope to build one or two government-led markets to compete; it is advisable to build them, but not necessarily government-led.
Monopolies cause high prices; that rule applies to both State and private capital. In order to prevent vegetable prices from becoming abnormally high, local authorities need to introduce new competitors and regulate the market well so that there is legal and fair competition.
Meanwhile, more problems are awaiting answers. For example, how did this market become so dominant? Were any serious crimes involved? That requires greater efforts from the local authorities.