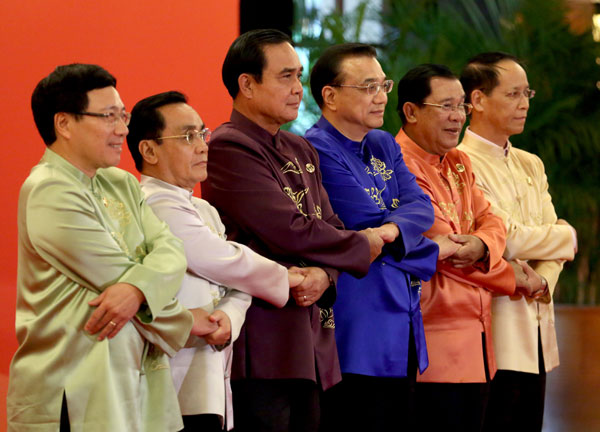 Premier Li Keqiang (third from right) poses with Thai Prime Minister Prayut Chanocha (third from left), Cambodian Prime Minister Hun Sen (second from right), Laotian Prime Minister Thongsing Thammavong (second from left), Myanmar Vice President Sai Mauk Kham (right) and Vietnamese Deputy Prime Minister Pham Binh Minh (left) at a welcoming ceremony on Tuesday before the Lancang-Mekong Cooperation Leaders' Meeting, scheduled for Wednesday, in Sanya, Hainan province. WU ZHIYI / CHINA DAILY
The Sanya Declaration and a joint statement on capacity cooperation issued at the conclusion of the first leaders' meeting of the Lancang-Mekong Cooperation framework in Sanya, Hainan province in South China, on Wednesday are expected to act as the political guidelines and road map for sub-regional cooperation between China and the other countries concerned.
Strengthened cooperation among countries in the Lancang-Mekong River Valley and effective use of common water resources can strengthen regional ties. Yet they should be alert to intervention from other countries seeking to sow discord among them.
Ever since China proposed the mechanism in 2014, non-regional countries such as the United States and Japan have been trying to create such discord by suggesting that China is a major power that not only controls the upper reaches of the Mekong River, called the Lancang in China, but also possesses the economic and political power to dominate regional cooperation. Beijing, they claim, could influence the other parties to the regional cooperation mechanism and even seek to "control" them through it.
True, a country in the upper reaches of a river usually has certain geographic advantages. But China's recent release of water from its dam on the Lancang-Mekong River to help some countries in the lower reaches fight drought best testifies to its positive role.
The exaggeration of "China's dominant role" by the US and Japan is aimed at creating misgivings about China among Cambodia, Laos, Myanmar, Thailand and Vietnam. However, China is a staunch believer in multilateral cooperation and promotes cooperation based on equality. As such, it will never exercise its influence to seek a dominant role.
The US and Japan are worried about the LMC, while those countries are not. The LMC is a cooperation initiative started by all the members to boost regional economic development and strengthen mutual friendship. Non-regional parties should stop trying to force their own ideas upon them.