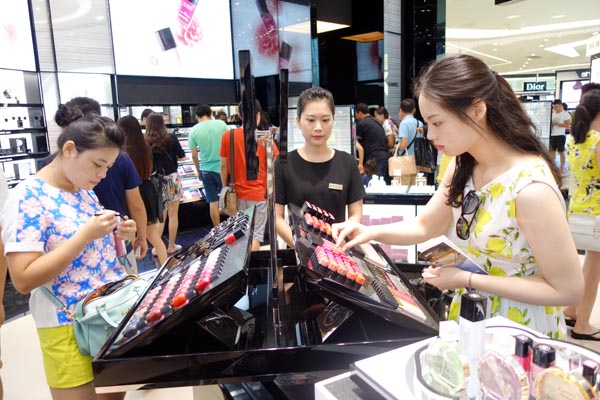 Tourists select cosmetics at Sanya Haitang Bay International Shopping Mall.[Photo by Huang Yiming / China Daily]
Declining foreign exchange reserves and poor trade growth figures are surely causes for caution for Chinese policymakers who are trying hard to arrest the slowdown of the world's second-largest economy amid increasing global uncertainties.
But protectionism is definitely not an option for the world's largest trading nation.
The latest round of tariff cuts to boost domestic consumption is therefore not only a much-needed boon for domestic consumers but also testimony to China's resolve to rebalance away from reliance on exports and fixed-asset investment toward a consumer-driven economy.
China's foreign exchange reserves, the world's biggest, declined to $3.44 trillion last month, the lowest level in nearly three years. While an imminent hike in US interest rates is bound to rock the global financial markets, China cannot afford to ignore the potential risk that rapid capital outflows may have on its economy.
Meanwhile, customs' data indicate the country's exports fell 6.8 percent year-on-year to $197.2 billion in November and imports fell 8.7 percent to $143.1 billion, declining for the 13th straight month. Such disappointing monthly figures have made it almost impossible for China to register a trade growth for the whole year, a far cry from the annual target of 6 percent growth.
However, in face of such headwinds, policymakers have not lost faith in the necessity to boost domestic consumption into a key growth engine as soon as possible.
On Wednesday, the Ministry of Finance announced tariff cuts for a number of popular consumer goods. By expanding their choices between made-in-China and imports, such tariff cuts will encourage Chinese consumers to spend more. And accelerated growth of domestic consumption, in turn, will improve the supply side as domestic companies will have to compete hard against foreign producers.
Deeper and wider tariff cuts are a much better recipe than protectionism for consumption-led growth in this country.