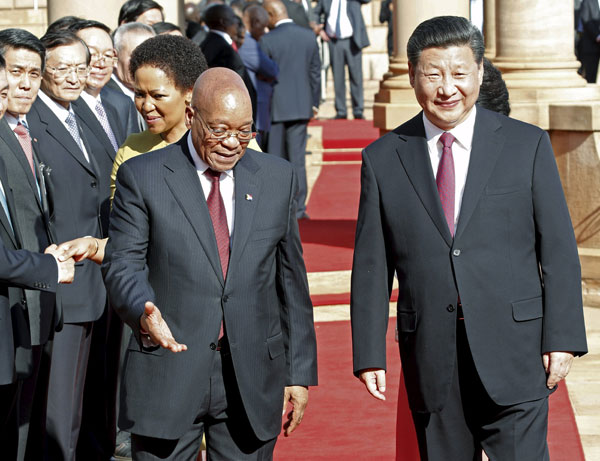 Chinese President Xi Jinping walks with South African President Jacob Zuma upon his arrival at the Union Buildings in Pretoria, December 2, 2015.[Photo/Agencies]
President Xi Jinping's visit to Africa isn't just symbolic but also a reaffirmation of China's engagement with the continent. An engagement which gives impetus to the Chinese dream to actively and positively raise China's international influence through cooperation, partnerships and friendly bilateral relations.
China's astronomical development remains a model for all developing countries and as such its partnerships with African nations in a continent harbouring almost two thirds of the world's developing economies could only be welcomed.
Since the partition of Africa at the Berlin Conference of 1884 and the subsequent decolonisation of the continent in the 1960s, the economies of countries in Africa have suffered from a lame response to the continent's economic resurgence by the West, to put it bluntly, a dictatorial strings-attached aid form of development by the Bretton Woods institutions.
Eddie Turkson 
Despite the fact that many African countries for the past five to six decades have received substantial foreign direct investment from the West, Asian countries and other development partners, the continent remains the least industrialised in the world. So it is only prudent that countries in Africa warmly welcome increasing engagement from its largest trading partner with more than $220 billion in 2014.
The relationship between China and the region as observed by most analysts is more often mediated by formal government-to-government agreements leaving the private sector less involved. Countries with the most Chinese private investors are often government preferred destinations leaving many nations in sub-Saharan Africa with the exception of a few including South Africa, Zambia, Nigeria and Kenya less involved in Chinese engagement in the region.
Far more criticised is China's increasing investment in the extractive industries in Africa. To this, most African countries maintain that China's involvement has been positive and contributed to the rise of some of the fastest developing countries in the world, a feat they couldn't have achieved without the highly promoted new partnership agreements with China.
There are also several complications and impediments in Africa's engagement with China, where Africa's exports and investments remains limited in scale and scope. The solution, as opined by many analysts, that for Africa to replicate the East Asian economic miracle, African governments must adopt policies that enhance the international competitiveness of local industries, foster better governance, improve financial and labour markets, and attract more investment in infrastructure. Thus, African policymakers must make better use of China's involvement in the region as a lever for growth.