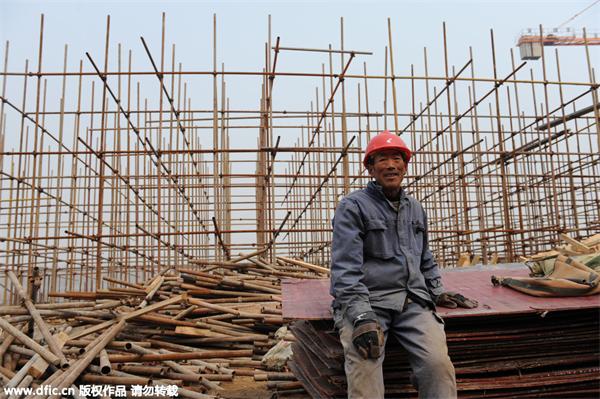 A migrant worker in east China's Shandong province. [Photo/IC]
The data on average salaries in 2014, recently published by 20 provinces, municipalities and autonomous regions, have provoked controversy because of the gaps they have revealed between different regions and industries.
The average salary for public employees in Beijing, the highest among the 20 regions, was 2.4 times that of the same group in Central China's Henan province. At the same time, the 2014 average salary of public sector employees in the capital, which exceeded 100,000 yuan ($16,110), was twice that of private sector staff.
The data of the National Bureau of Statistics also indicate the wide salary gaps among different regions and industries.
From a historical perspective, the salary gaps among different regions can be attributed to their differences in population, education, public resources and development levels. However, the real factors lie in the insufficient efforts to tilt public resources and the distribution of funds to the less-developed regions, as well as a lack of courage to implement reforms.
The wide gaps between private and non-private sector salaries are a result of the fact that the public sector mainly comprises government departments, institutions, monopolistic State-owned enterprises, or foreign-funded companies that usually offer a stable and relatively considerable salary.
In contrast, the private sector, which is mainly made up of less powerful smaller enterprises, usually offers employers smaller salaries because of its limited economic strength. And the legitimate rights and interests of employees working in these enterprises are sometimes not guaranteed.
It is not realistic to eradicate the salary differences among different regions and industries, but the gaps should be kept within a reasonable range to prevent more and more people, including high-tech talent, from swarming into higher-income regions or industries, which will further exacerbate the income divides.
The above is an abridgement of a China Youth Daily article published on Wednesday.