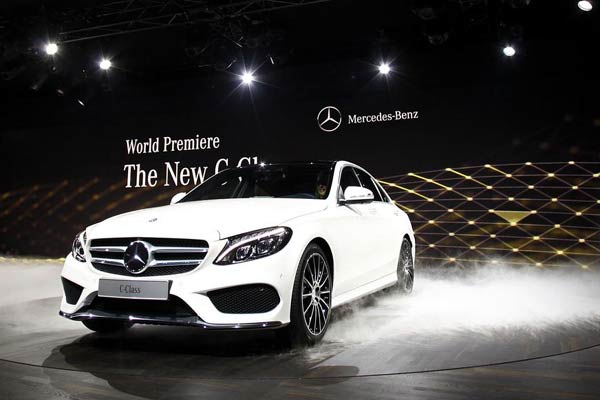 The new Mercedes-Benz 2015 C-Class is displayed during a private preview for media at the Westin Book Cadillac Hotel in Detroit, Michigan Jan 12, 2014, on the eve of the 2014 North American International Auto Show. [Photo/Agencies] 
China's antitrust authority fined Daimler AG, a German multinational automotive corporation headquartered in Stuttgart, 350 million yuan ($58.34 million) and some of its dealers nearly 8 million yuan for price fixing. The corporation has accepted the fine.
The latest case indicates China's gradual shift towards breaking up monopolies and applying antitrust laws, after enacting its Antimonopoly Act six years ago.
China also fined Qualcomm Incorporated, a US global semiconductor company that designs and markets wireless telecommunications products and services headquartered in San Diego, nearly $1 billion in February.
The two cases this year show China is strengthening its investigation and punishment of large multinational enterprises' monopolistic behaviors. The Chinese are starting to see the antitrust investigations as part of the government's duty to maintain market order for healthy competition, and serve the consumers' interests.
The antitrust law enforcement targets both Chinese and foreign enterprises violating the law. The Moutai Group, a national treasure liquor maker in Guizhou, has also been fined more than 400 million yuan in 2013 for price fixing.
Although Daimler AG lowered the price for its after-sales services and auto parts to 5 percent from 25 percent from mid January, an action widely seen as a move in response to the Chinese antitrust department, it still will not escape from the fines, because its exorbitant pricing policies have infringed upon the consumers' interests, and thwarted market competition.
Before its overdue, yet closefisted, price adjustment, the total cost of one car's worth of spare parts from Mercedes-Benz is equal to the price of twelve finished cars of the same model on the Chinese market.
Some Western media expressed concern that China's antitrust investigations of foreign enterprises will drive more foreign companies away from the country. The Daimler AG case was based on irrefutable evidence, and investigations were conducted according to law. The company's candid and submissive attitude indicates that it admits it violated the law and harmed the market.
The law and antitrust actions protect many companies from monopoly and unfair competition. If, as the Western media suggests, the foreign enterprises leave China out of fear of the Chinese authority's antitrust actions, they need to readjust their expectations as this is the new normal for the Chinese market.
With more than 1.3 billion consumers, China is the largest market in the world. Few multinational companies can afford to ignore it.