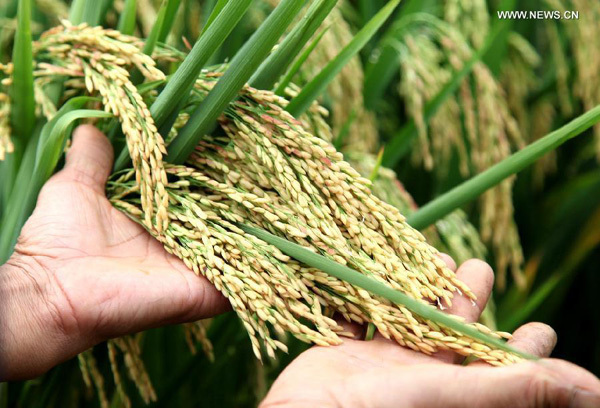 A farmer checks crops in a paddy field in Shaoshui township, Quanzhou county of South China's Guangxi Zhuang autonomous region, Sept 24, 2014. [Photo/Xinhua]
Highly toxic pesticides should have been banned from the farming of vegetables, fruits, teas and herbal medicines much earlier, but there needs to be substitute pesticides that are long-lasting with low-toxicity available for the farmers at reasonable prices to ensure the ban is implemented for real, says an article in Beijing News Daily. Excerpts:
Chinese lawmakers have proposed a ban on highly toxic pesticides in their third revision of the Food Safety Law. The ban, though long overdue, will better protect the public health if implemented. Last week, tons of watermelons from Hainan Island were destroyed on purpose by wholesalers in Qingdao, Shandong province, after dozens of people were rushed to hospitals for emergency treatment of organophosphorous poisoning after eating watermelons.
Chinese farmers still use highly toxic pesticides containing organic phosphorus.
Yet, there are many international agreements and conventions restricting the use of highly toxic pesticides and it is conventional practice to put dangerous pesticides under effective control in farming.
And if China can lower the pesticide residue in its agricultural products, it will reduce trade barriers and pave the way for agricultural trade with the developed economies.
China still lags behind the developed countries in the research and development of pesticides. Most of the 20-plus pesticides that China produces in large amounts are highly toxic pesticides, and the top four in terms of production volume in China, which has risen in recent years and accounts for more than one-fourth of the world's aggregate output, are restricted or banned by the United Nations' Food and Agriculture Organization and UN Environmental Program.
China needs to strengthen its research and development of the substitute pesticides that are of low toxicity and less persistent. Without these substitutes, the farmers will have claim ignorance of the Food Safety Law in pursuit of higher output per unit area of farmland.
The government should introduce more favorable policies for research into substitute pesticides and pay more attention to deal with the pests through environmentally friendly measures, and reduce the use of all pesticides, which kill large amounts of animals, as well as insects and the microorganisms in the soil, destroy the ecological chains and cause soil hardening.
Banning the highly toxic pesticides is only the first step toward reducing the overall use of all pesticides.