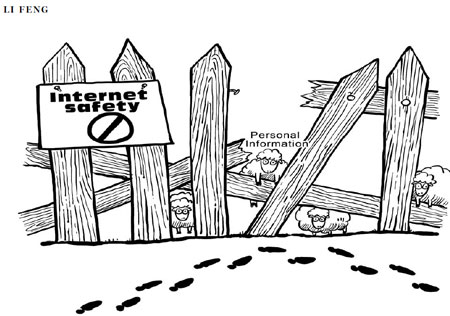 An increasing number of people who have bought an air ticket are falling prey to a scam in which they receive a message saying their flight has been canceled and they need to pay to change it. The messages contain detailed information about the passengers' names, flight numbers, even their ID card numbers, and reports suggest airline companies, ticket agencies or their staff members are guilty of having sold passenger information. Comments:
The flight-changing fraud has been reported many times, and every time the airlines and ticket agencies both claim there is no evidence of them selling the information. Legislation is needed to make them responsible for the security of the information they obtain from passengers, and they should compensate passengers for any losses as a result of such scams. That's in accordance with the principle of fairness and the rule of law.
Southern Metropolis Daily, Feb 1
The authorities claim there is no law governing the selling of passengers' information but that's not true. According to the Criminal Code, it is a crime to illegally obtain personal information and derive a profit from it, and anyone who does so faces up to three years' imprisonment if found guilty.
Zhang Qihuai, a Beijing-based lawyer on aviation law, Feb 2
Our investigation found that passengers' information is contained in an online ticket-selling system, which means that anybody trying to obtain the passengers' information must get access to the exclusive system first. Some illegal businesses rent access from the airline companies, who claim they have not sold any personal information and insist they are not responsible for the misdeeds.
Beijing TV, Feb 2
The moment passengers book a plane ticket, they have already entrusted airline companies with their personal information and the latter are responsible for protecting the information they have obtained. If their staff members are involved in any wrongdoing, they should investigate and punish them, instead of trying to pass the buck.
Nanjing Daily, Feb 2