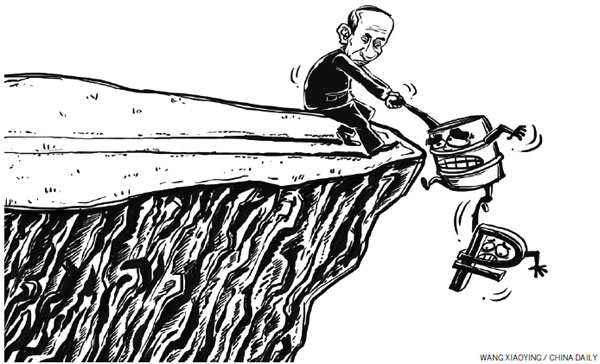 Is the world becoming more dangerous? This question was recently asked by strategists, scholars and foreign policy practitioners from across the world at Ditchley Park, Oxfordshire, without an affirmative answer.
Looking back at 2014, the sky of the West didn't have much of a silver lining. The key words that marked the year were Russia, Islamic State and defense spending. The Cold War ended a long time ago, but Russia look like a threat again to the west. The IS is the most alarming of developments because terrorists can no longer be simplistically identified only as people from the Muslim world. According to CNN, at least 2,000 Europeans have traveled to Syria to join the IS. Many of them are now back in Europe fighting for radical Islam. In spite of these threats, public interest in defense spending is low. No matter how justifiable it might be, NATO's standard of 2 percent of member states' GDP will not be easy for most of them.
In the Asia-Pacific region, optimism over the future still prevails. The economies of most Asia-Pacific countries are thriving. China has become the largest-trading country, if not the largest economy, in the world. True, disputes over islands and reefs have intensified and tensions have flared up sometimes, but things have not got out of control. China and ASEAN are negotiating on a Code of Conduct in the South China Sea. China and Vietnam have agreed to establishg a hotline. A similar hotline between China and ASEAN has been proposed by China . Nobody is talking about a war.
The real dangers in the region are accidents and miscalculations, especially between China on one side and the United States and Japan on the other. Too often in China's Exclusive Economic Zone and in the overlapping air defense identification zones of China and Japan, military vessels and aircraft cross each other's path unplanned. A Chinese and an American aircraft collided in 2001. Thirteen years later, in August 2014, a Chinese J-11B fighter jet and a US P-8 were involved in an air miss.