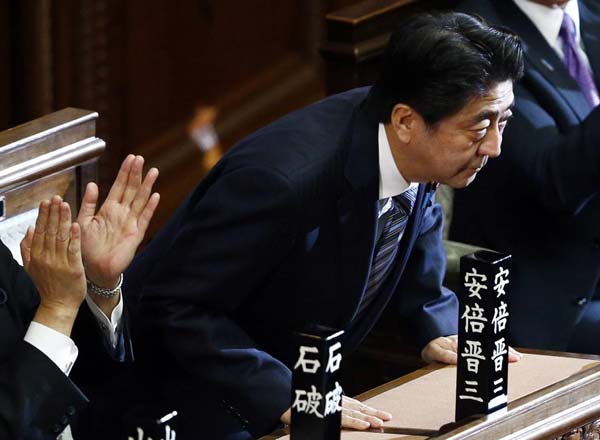 Japan's Prime Minister Shinzo Abe bows as he is re-elected as prime minister at the Lower House of Parliament in Tokyo December 24, 2014.[Agencies]
A special session of the Japanese Diet, or the national legislature, was held on Dec 24 to choose a new prime minister and Shinzo Abe was re-elected as the country's leader again. In order to revive Japan's sagging economy, Abe needs to change his provocative military and foreign policies. This is important because without closer cooperation with China and the Republic of Korea, he cannot achieve the goal.
An official survey in Japan showed Japanese people's antipathy toward China and the ROK has reached record levels, which is not conducive to the revival of the country's economy. Therefore, Japanese politicians have to take concrete measures to change Japanese people's wrong perceptions about neighboring countries, and they could start by promoting trade talks.
According to a Japanese think tank report issued a few years ago, the establishment of a free trade area (FTA) with China would help Japan's GDP grow by 0.68 percent, much more than the additional growth FTAs with other countries could spur. For example, the report said, the US-Japan FTA could only push up the Japanese economy by only 0.35 percent while the Trans-Pacific Partnership will add 0.54 percent growth.
Plagued by two decades of deflation, Japan hopes to set up an FTA with China to boost economic growth. But because of Japan's reluctance to open up its domestic market and allow increased investment from Chinese enterprises - because of its deteriorating ties with China over the Diaoyu Islands dispute and Abe's visit to the Yasukuni Shrine that honors 14 Class-A war criminals - Sino-Japanese trade has further shrunk and the bilateral FTA talks have suffered.
Hence, whether or not the trilateral (China-Japan-ROK) FTA talks will progress depends on whether Tokyo can take the initiative to create a good environment for cooperation with Beijing and Seoul. The onus is now on Japan to break the stalemate, for example, by clarifying its stance on key issues to ease the misgivings of China and the ROK.