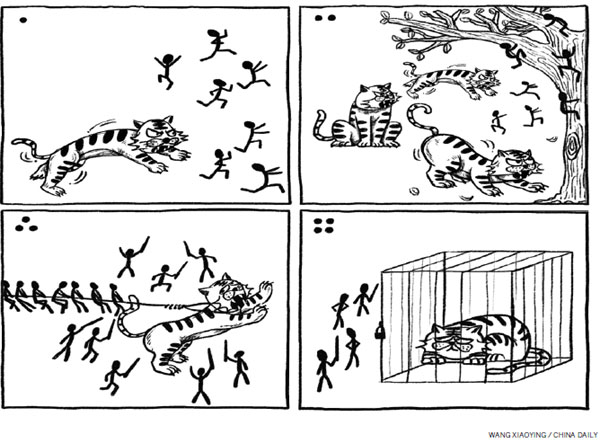 Corruption and the wealth gap between the rich and the poor have become the biggest obstacles for society's progress, so authorities have to launch an intensive anti-corruption campaign to clear the road to smooth economic and social development. Such emergency measures have proved decisive in fighting corruption, for they have brought down many corrupt officials. Apart from being welcomed by the people, such measures have also helped strengthen the Party's and the government's authority in matters of governance.
Anti-corruption campaigns have their advantages - they have a clear objective and very effective in the short term. But they also have some disadvantages, for they require a lot of manpower and material resources, treat the symptoms of corruption rather than curing the disease, do not have a long-term effect and could lead to some wrong, or unjust cases.
Therefore, the need is to focus more on institutional corruption, so that the disease of corruption is eliminated from the roots. Until now, inspection teams have been dealing with corruption. Despite being given enough power to deal with corrupt officials, their work is effective only in the short term, because team members' personal contacts and social relations could influence the investigations and distort the outcomes. In a sense, corruption has been fought more according to "the rule of man" and less according to the rule of law, which can hardly be effective in the long term.
So, future crackdowns on corruption should be carried out mainly by judicial organizations such as discipline inspection and supervision authorities, and procuratorates and courts, and must be supervised by the public.
Also, some people assume that until now the anti-corruption drive has mainly been targeted at specific organizations, industries and regions such as the China Railway Engineering Corporation, China National Petroleum Corporation, China Petroleum and Chemical Corporation, and Guangdong and Sichuan provinces. But from now on, the authorities may target all organizations, industries and regions in their anti-corruption campaign, and should help build an anti-corruption network that spans across the industrial and bureaucratic chains.