A series of sex abuse cases in China has led to growing public awareness of sex crimes. Recently, sexual assaults on at least five school girls by local vagrants were investigated in Shandong province. Also in the news was a report of a Xiamen University professor accused of molesting and raping female students that went viral on the Internet.
According to a United Nations report based on police records of rapes in 130 countries from 2003 to 2012, the incidence of rape is not as high in China — at 2.1 per 100,000 people — as in the US (26.6), the UK (23.2), South Korea (12.7) and other countries. The UN report ranked China 81st in 130 countries surveyed. But does this actually mean China has such an extremely low rate of sex crimes?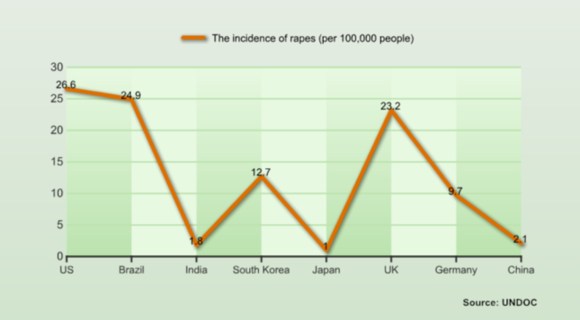 The incidence of rapes recorded by the police
The answer is no. In China, a large number of sexual abuses are not recorded. A 2013 multi-country survey by on sex crimes in the Asia Pacific region shows that 22.7 percent of Chinese males surveyed said they had raped a woman.
Furthermore, among those Chinese accused of committing sex crimes, only 24.9 percent were arrested, compared with an average of 32.5 percent for all the countries surveyed. Also, only 15.6 percent were imprisoned, compared with an average of 22.9 percent for all the other countries surveyed. On the surface, it appears that the rate of registered rape cases in China is lower than the average level of the Asia Pacific region, but the issue is more complicated.