Toward humane geriatrics
China needs to take immediate action to ensure that the rising number of senior citizens lead a life free of violence and abuse
On the occasion of the first legally prescribed national day of the elderly in China, which falls on Oct 13 this year, governments, communities and individual members of society have to make an important commitment, the commitment of ensuring that senior citizens live a life free of violence and abuse. Violence against and abuse of senior citizens should not be tolerated under any circumstances.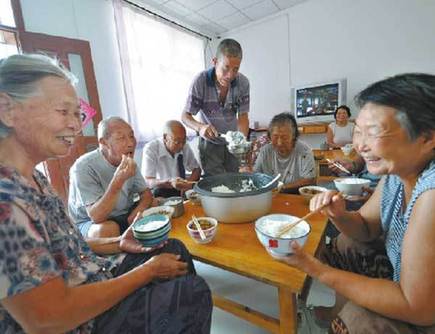 Senior residents have lunch at a nursing home in Cheng'an, Hebei province. The Ministry of Civil Affairs said it will focus on in-home elderly care services in the near future. Hao Qunying / For China Daily
Although China has been celebrating the ninth day of the ninth month on the lunar calendar as the day for the elderly since ancient times, the amendment to the Law on Protection of the Rights and Interests of the Elderly makes the celebration statutory from this year. The amendment came into force three months ago.
At the international level, the United Nations General Assembly has designated June 15 as World Elder Abuse Awareness Day, when the whole world voices its opposition to maltreatment of the elderly. Protection of senior citizens from abuse and violence is also part of other key international agreements such as the Madrid International Plan of Action on Aging and the Convention on Elimination of All Forms of Discrimination against Women.
The World Health Organization estimates that even in high-income countries, between 4 and 6 percent of the elderly have experienced some form of abuse at home (WHO Fact Sheet No. 357 in 2011). Data from developing countries are insufficient to estimate how widespread elder abuse is, but emerging research suggests that abuse and neglect of and violence against the elderly, both at home and in institutions, are much more prevalent than currently acknowledged.
Such abuse is a violation of human rights of the elderly. Making matters worse, such cases often go unreported and unaddressed, especially in households. In China, even though filial piety is a highly valued trait, elder abuse often occurs both within and outside families in cities as well as the countryside.