China-Thailand ties to turn strategic
Chinese Premier Li Keqiang's visit to Thailand is expected to raise Thai-China ties to a higher level, especially in strategic matters.
The change in Thailand's diplomatic outlook is new and still evolving, with Prime Minister Yingluck Shinawatra leading the push. Thailand realizes that this is the time to strengthen friendship with China, especially because the United States changed its Asia policy in November 2011.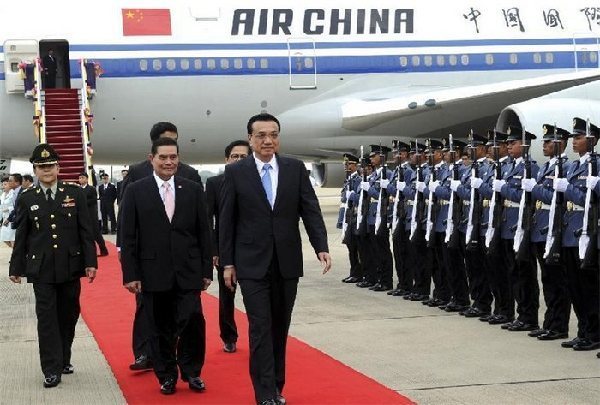 Chinese Premier Li Keqiang (front) arrives at the airport in Bangkok, Thailand, Oct 11, 2013. At the invitation of Thai Prime Minister Yingluck Shinawatra, Li arrived in Bangkok Friday and started an official visit to the country. [Photo / Xinhua] 
Two factors explain this shift in paradigm. First, US President Barack Obama had to cancel his planned trip - for the third time - to the region indicating the diplomatic constraints the White House faces today and will do so in the future. Developments within the US have taken a heavy toll on Washington's diplomacy in Asia. Despite the "pivot to Asia" policy of the US, the Middle East has been the focus of Washington's diplomacy for some time now, heightened by Secretary of State John Kerry's enthusiasm.
As such, Thailand and other ASEAN member states are making efforts to strengthen their friendship and cooperation with China. The general feeling within the Association of Southeast Asian Nations is that Chinese leaders do not take regional leaders and their agenda for granted. Of course, Chinese leaders make their presence felt at regional and international meetings, but they follow it up through positive actions. In fact, Chinese leaders have not missed any regional summit since 1997, when they first attended a meeting with their counterparts from ASEAN member states.
Growing economic interdependence is another factor why China has become very important for ASEAN member states. With the exception of the Philippines, almost all ASEAN member states have China as one of their top trading partners.