Fighting Beijing's traffic blues
Not long ago Beijing was known, among other things, for its bicycles, made even more popular across the world by the Katie Melua song: There are nine million bicycles in Beijing. The bicycles, however, didn't pose a problem for Chinese policymakers, the rising number of automobiles does. If reports are to be believed, the total number of motor vehicles in Beijing looks set to reach 6 million by 2015.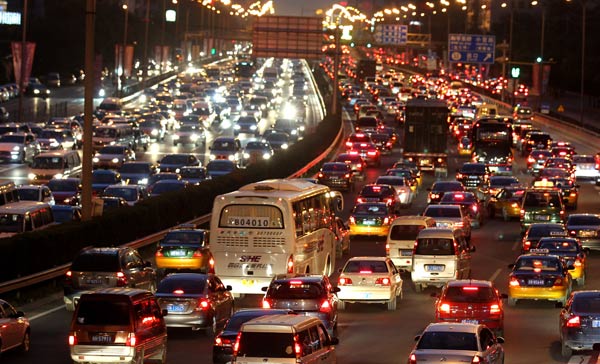 Traffic moves at a snail's pace near Beijing's Wanghe Bridge on Wednesday evening. The capital has seen major traffic jams in the past several days as the number of commuters swelled ahead of the eight-day national holiday. Wang Jing / China Daily
As one of China's most populous cities, Beijing is continuing to grow with an increasing number of its residents hitting the road. China and its leaders are well aware that the rapid industrialization, which has transformed the fabric of the country, has also led to worsening air pollution and traffic congestion. These are not problems that a global metropolis like Beijing can ignore.
I was in Beijing for the very successful 2008 Olympic Games, after which I traveled to Shenzhen in Guangdong province to attend the Urban Transportation Management Forum, organized by the city's government. In Shenzhen, I talked with the city's planning bureau officials about the experience of imposing congestion charge in London.
At the same time I realized that Beijing could do with a congestion charge as well, for it would not only reduce congestion but also improve the city's air quality. The short-term, but successful, measures taken during the Olympics prove that such a measure could work even greater wonders.
Certainly the clear blue skies at the end of the Beijing Olympics were impressive, especially after many had voiced concern that pollution could harm athletes' performance and health.
But it is important that sustainable long-term measures to curb traffic jams and pollution are implemented to allow China to continue to grow and for its people to benefit from the increased prosperity of recent decades. To allay rising public concern, Beijing authorities have taken a number of measures, including introducing tough new emission standards for new vehicles similar to the Euro V in Europe.