Woes of congested week
The most congested week in the most congested month that Beijing is experiencing is straining the capital's already overburdened roads and underscores the urgent need for sensible measures to ease the traffic pressure.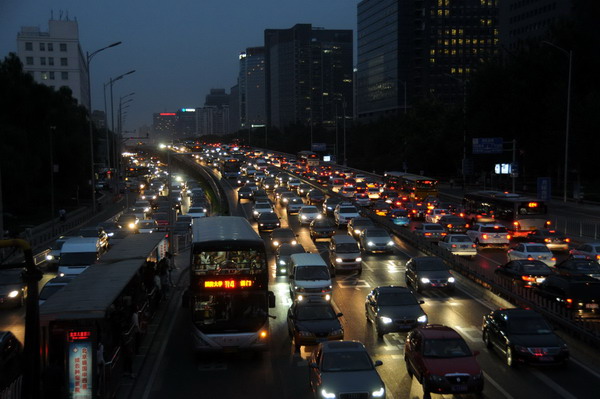 The annual Mid-Autumn Festival will fall on Thursday, the capital also started its most congested week of Sept 16, 2013. [Photo/Xinhua] 
Due to the inclusion of the opening day of a new school semester, the Mid-Autumn Festival as well as the countdown to the weeklong National Day holiday, Beijing usually witnesses its worst traffic congestion in September.
And given that the annual Mid-Autumn Festival will fall on Thursday, the capital also started its most congested week of the month on Monday, as there is usually the heaviest traffic in the days leading up to major festivals.
The Beijing Commission of Transport suggested some precautionary measures recently, including proposing less government meetings or activities and flexible work hours, and it has established reversible lanes on some trunk roads during peak traffic hours. However, the capital has still witnessed terrible traffic congestions over the past two weeks, with its traffic congestion index rising to 9.1 on a 0 to 10 scale on Friday.
Although the Beijing authorities have introduced a series of measures in recent years to try and ease congestion, such as the lottery-based issuance of license plates and increased parking fees in downtown areas, they have failed to ease congestion to any noticeable effect.
So the recent plan to keep the number of cars in the capital no more than 6 million by the end of 2017 should be applauded as a firmer measure to control the number of vehicles in the city.
However, for a big metropolis such as Beijing any single measure alone, no matter whether a ceiling on the number of vehicles or higher parking fees, will not be enough to cure the long-accumulated traffic problem. Clearly increased input in the city's public transport system and greater awareness of "traveling green" are badly needed.
A city-wide public awareness campaign is underway in Beijing to encourage the use of public transport, but the roads need to be made more bicycle friendly, and the city will have to do more to improve the convenience and accessibility of public transport.
The latest offer of made-to-order bus routes is a nice start. But beyond that, more has to be done to make public transport the first choice for the average commuter.
(China Daily 09/17/2013 page8)