Grasping Abe's real objective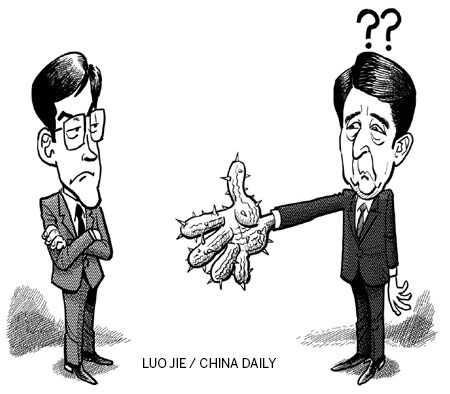 As China embarks on a renewed path of "peaceful development" and the Republic of Korea sticking to the practice of trustpolitik (or political trust), it seems a rather awkward moment for Japanese Prime Minister Shinzo Abe to be trying to reverse decades of strategic stagnation with an approach in which peace and trust are entirely lacking.
In an interview with Defense News, Yoji Koda, retired vice-admiral of the Japan Maritime Self-Defense Force, blamed the Democratic Party of Japan for squandering many opportunities to enhance Japan's contribution to the Japan-US strategic alliance, and urged the ruling Liberal Democratic Party to reverse this policy. The US has offered Japan a fresh chance to do that through its "pivot to Asia".
Abe and the LDP would love to see Japan as an adept and reliable partner of the US and the lynchpin of all future strategic structures. But in practice, the US has been disappointed by Japan since Abe came to power, as was made clear by Ralph Cossa, president of Hawaii-based Pacific Forum, in his article, Tokyo-Seoul: enough is enough, in The Japan Times. Moreover, the US is investing far more diplomatic efforts to reestablish its great power partnership with China. In comparison, US relations with Japan have withered.
The situation seems to be going from bad to worse for Japan. Arguably, the US is shifting its focus to the Middle East, leaving the Asia-Pacific region in China's hands. Senior US officials with knowledge of East Asia - former secretary of state Hillary Clinton, former national security advisor Thomas Donilon and former assistant secretary of state for East Asian and Pacific affairs Kurt Campbell - have all gone. More importantly, whoever assumes charge of managing US policy in the region will rely heavily on what was agreed at the historic summit between US President Barack Obama and Chinese President Xi Jinping in California in June.