True history of Diaoyu Islands
Unilateral actions taken by Japan since last year, including the decisions to "purchase" and "nationalize" the Diaoyu Islands, have pushed Sino-Japanese relations to their lowest point in four decades.
Japan claims that the Diaoyu Islands were terra nullius before it discovered and incorporated it into the Japanese territory. But the truth is, decades before Japan annexed the Ryukyu Kingdom - and occupied the Diaoyu Islands - British naval ships had to obtain permission from the then Chinese government before even entering the waters off the Chinese islands in the East China Sea, including the Ryukyu Islands and the Diaoyu Islands.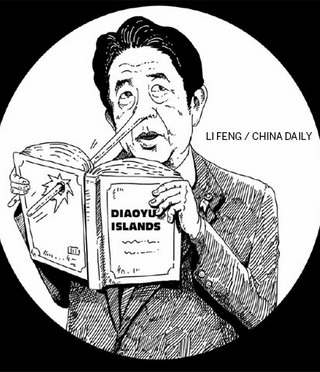 To anchor its ships off the coast of the islands, the British navy had to submit applications through the Liuqiu guan, or the Ryukyu consulate in Fujian province, which then redirected them to the Buzhengsi, or the Fujian provincial chief secretary for administration, for approval because of the tributary relations between Ryukyu and China.
According to The Historical Analyses of the Diaoyu Islands by Japanese academic Kiyoshi Inoue, British naval vessel Samarang set sail from the Ryukyu Kingdom's Yaeyama Islands and Yonaguni Island and reached the Ishigaki Island on June 14, 1845. On that fateful night, captain Edward Balcler unfolded a nautical chart to locate Hoapin-San, today's Huaping Isle, to conduct a survey of the hydro-geographical features of the waters between Huaping Isle and the Diaoyu Islands.
On June 15, the ship reached Tiau-Su, or the Diaoyu Islands, but mistook it for Hoapin-San. The survey results were published in 1848 in the Narrative of the Voyage of HMS Samarang during the Years 1843-46, which is perhaps the earliest scientific survey report on the Diaoyu Islands.
In 1855, the British navy drafted and published a nautical chart based on the report, and included the chart in The Islands between Formosa (Taiwan) and Japan with the Adjacent Coast of China.
The voyage of the Samarang is also supported by circumstantial evidence from the Chronicle of Ryukyu. According to the chronicle, the captain of the Samarang had applied to the Fujian provincial commissioner through the British consulate as well as the Ryukyu consulate in Fuzhou, capital of Fujian, and got the necessary approval before setting sail for the survey.