Photovoltaic power generation pushes desert improvement
Updated: 2015-06-25

Dengkou county in North China's Inner Mongolia region plans to invest 4.9 billion yuan($7.89 million ) to develop it into an ecological photovoltaic base.
The county is home to 4.26 million mu (284,000 hectares) of desert, nearly one fourth of China's eighth largest desert Ulanbuhe, making it a unique site to develop solar energy.
To date, there are five energy enterprises in the base with total installed capacity of 185 megawatts. It targets for an installed capacity of 500 megawatts in three years.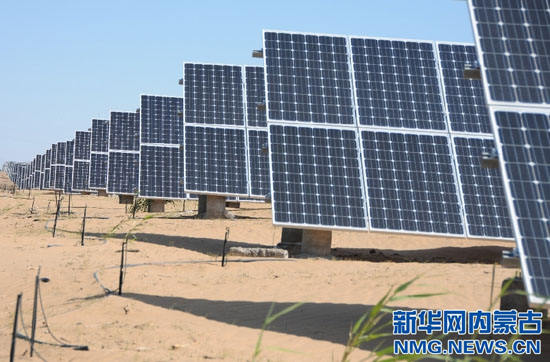 Photovoltaic power generation pushes desert improvement" valign="center"/>
The ecological photovoltaic base in Ulanbuhe Desert, Inner Mongolia autonomous region [Photo by Li Yunping/Xinhua]
Photovoltaic power generation pushes desert improvement