Changing perceptions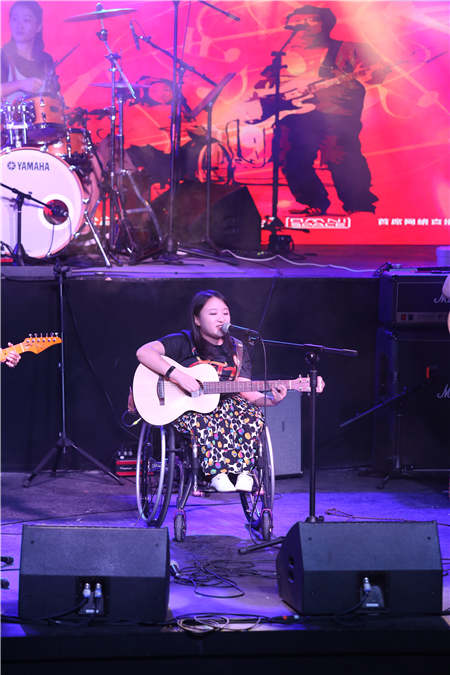 Cui Ying, who formed the band 8772 with friends, plays the guitar and sings, to get strength from music. [Photo provided to China Daily]
Sense of responsibility
Being a social entrepreneur requires components such as funding, experience, social networking and resilience, which is already hard enough for regular people. Despite their physical limitations and other obstacles, there is an increasing number of people taking such roles. Taylor Li is one of them.
Since Li's early memory, she always had problems with staying awake. She would fall asleep during her classes, on buses and even while riding a motorbike.
Li could fall asleep even while driving on a highway. She took many measures including slapping herself, energy drinks, speaking to herself and listening to loud music. None of them worked.
On her 21st birthday, Li was diagnosed with narcolepsy, a primary hypersomnia condition with frequent daily sleep attacks, hallucinations and temporary muscle weakness brought on by strong emotions.
This rare disease has gained some public understanding in the United States, but in China, few people know about it.
"When we talk about it, they think we are just joking or trying to fool them, which makes me feel helpless," says the 24-year-old who studied business administration at the University of Southern California.
The Chinese Sleep Research Society estimates there are probably about 700,000 people who suffer from narcolepsy in the country, but less than 5,000 have been diagnosed.
In 2016, Li launched a public campaign, I Invite You to Sleep, with an aim to find more narcolepsy patients, help them understand the disease and raise public awareness about it. The campaign went viral with both media attention and public figure endorsement.
This year, she joined ChinaNext Foundation and launched the China Narcolepsy Project, the first NGO project on narcolepsy in China intending to offer consulting and form a community for patients.
Building such community has not been easy. Li was questioned by the patients' parents, lacked funding, and had difficulty getting resources and making strategies. She even had trouble finding the right helper.
"I was overly optimistic about building the community. It's proving to be a long, slow process," she says.
From July to September, Li visited 16 Chinese cities to meet narcolepsy patients and talk with them about the challenges they face.
Li plans to appear on TV shows and make online shows to raise public awareness while continuing to build the community.
"What motivated me was my own experience. I suffer from it every single day," she says.
Li is also driven by a sense of responsibility. "I have already started the program; it would be irresponsible if I quit now."