Changing perceptions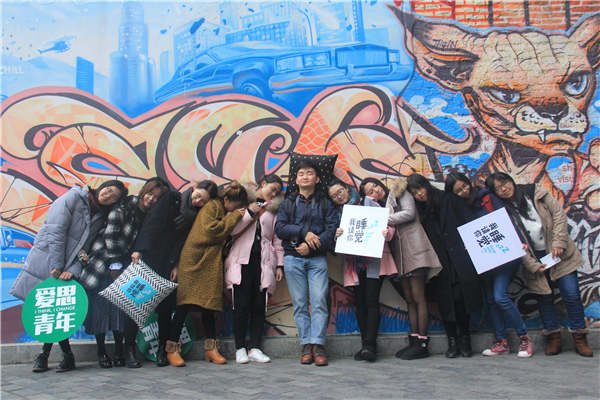 Young volunteers in the campaign, I Invite You to Sleep, get together to help raise awareness for people with a sleep-related affliction. [Photo provided to China Daily]
Ahead of the International Day of Persons with Disabilities, Zhang Zefeng talks to four young people with uncommon afflictions, who are working to raise public awareness of rare genetic diseases.
Growing up with congenital heart disease and epilepsy, Pan Longfei had a fairly eventful childhood.
Seeing doctors and taking medication were an indispensable part of his early life, and he was physically the smallest and weakest among his peers. Schools saw him as a risk and parents thought his condition was contagious, so Pan was elbowed out of schools about five times. It took him 10 years to complete primary school.
Pan was also misdiagnosed with leukemia. Even when his peers started their journey to adulthood, he still hadn't started puberty, which brought him sneers and humiliation.
"I always perceived myself as an alien," says the now 28-year-old.
Even today, he still has social phobia.
Until he was 23, no one realized that Pan had Kallmann syndrome, a rare genetic hormonal disorder that causes delayed puberty and infertility.
Pan was thrilled to receive that diagnosis as the doctor said hormone replacement treatment is generally effective. However, for some others the diagnosis leads to despair and heartbreak.
"Many patients try to commit suicide as they believe it's incurable and they will need lifelong medical treatment," Pan says.
In 2014 Pan set up an online group, Kallmann, offering patients health consults, sex education and networking activities.
Over the years, the group has morphed from a small group to a community of more than 2,800 members.
To inspire the public to learn about Kallmann syndrome and other rare diseases, Pan began walking from place to place. Last year, he covered nearly 500 kilometers walking from the Inner Mongolia autonomous region to Beijing.
In China, there are more than 140 rare diseases affecting 16.8 million people, of which 80 percent are genetic, according to Fudan University Research Center for Birth Defects. They often appear early in life and may be present throughout a person's life.
Dec 3 is the International Day of Persons with Disabilities.