Changing perceptions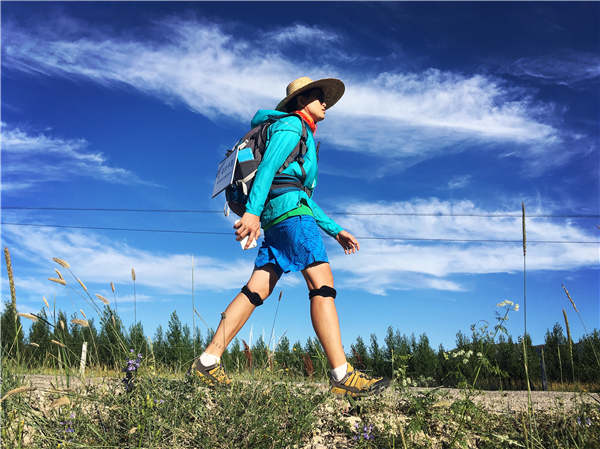 Pan Longfei does hiking across China. [Photo provided to China Daily]
Common language
Cui Ying is fragile. She had her first bone fracture when she was 1 year old, and since then she has broken her bones again and again.
At the age of 4, Cui was diagnosed with osteogenesis imperfecta, more commonly known as brittle bone disease.
"My bones are susceptible to fractures," she says. "I have to be very careful."
From the age of 6, Cui wasn't able to walk anymore. As a result, she dropped out of school and was taught to read and write at home by her parents. At 16, she got the opportunity to be home-schooled in primary and middle school courses for four years, taught by visiting teachers.
In a report released by China-Dolls Center for Rare Disorders, there are about 100,000 people in the country like Cui with brittle bone disease. About 70 percent of them live in less-privileged rural areas.
Attending a charity event in 2014 changed Cui's life. She composed a song with a friend and performed there.
As Cui enjoyed the process of collaborating and playing music, she proposed starting a band consisting of members who all have rare diseases or disabilities.
The band, 8772, made its debut in Beijing on Oct 31, 2015. The band writes original songs to depict the life of people with rare diseases. Cui is the guitarist and lead singer.
One of the band's popular songs, Yu Sheng (Ode to Life) was written by Bao Zhenni, a 16-year-old girl who suffers from spinal muscular atrophy, a rare disease that causes muscle wastage.
Bao is paralyzed and can use only one hand, but her passion in music pushes her to write songs on a smartphone.
"She is very talented. Her lyrics are both well-structured and philosophical," says Cui, 29. "It's hard to believe the songs are written by such a young girl."
In the past two years, 8772 has performed at music festivals, on TV shows and at charity events. The band is expected to release its first album early next year.
"Music is a language that can be understood by everyone. When people hear our songs, they also get to know the real us," Cui says.