Guo Pei: China's timeless haute couturier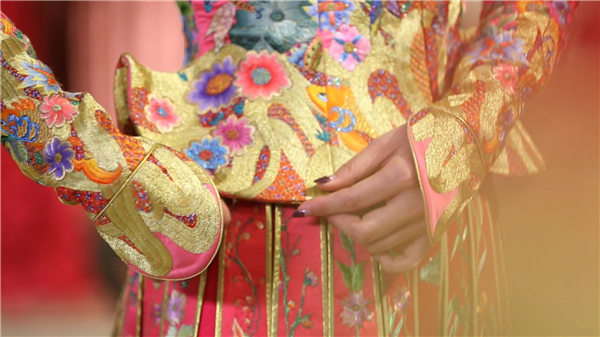 [Photo/CGTN]
Guo loves designing wedding gowns, believing that "a single wedding gown can be passed down for three generations". Traditionally in China, a mother sews her daughter's wedding gown. Each needle and thread carries the affection and prayers of a mother to her child.
In modern China, only a few wear traditional wedding gowns on their big day. However, today, more celebrities are appearing in public wearing Chinese-style wedding gowns designed by Guo, slowly making her and her traditional handicraft the new mainstream.
Guo's studio is most famous for traditional embroidery. All her designs are handmade, stitch after stitch, by the studio's embroiderers. Some pieces could take thousands of hours to complete. Authentic gold and silver threads and luxurious fabrics are used, and some of her designs weigh up to a few dozen pounds. Guo emphasizes the importance of the history and heritage of traditional clothes and craftsmanship, so she rarely uses modern technology in her fashion.
Pure handicraft like this is deemed to be valuable enough to pass down to the next few generations.