Couple sow seeds of success in Tibet county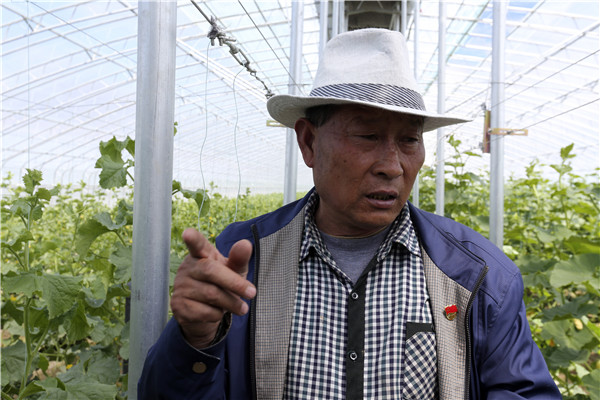 Zhang Jiming has helped Tibetan farmers to grow vegetables in Panam county, Shigatse, Tibet autonomous region, over the past 17 years. [Photo by Feng Yongbin/China Daily] 
Nearly two decades ago, Zhang Jiming was still a farmer in a village in Jinan, East China's Shandong province. He never thought he would do anything else except tend to his crops, or travel anywhere too far from his fields.
He could never have imagined that he would become a teacher for farmers in Panam county in the Tibet autonomous region, on the other side of the country, helping the locals to grow new types of food and improve their way of life.
Zhang, 54, arrived in Tibet as one of the hundreds of people from Shandong who have offered their expertise to help the region's development since 2000.
In the past 17 years, Zhang and his wife, Han Zuoying, have lived in Panam, teaching local farmers to grow vegetables. Panam in Shigatse city is about 3,900 meters above sea level. Its dry and cold climate makes it difficult to farm vegetables at that altitude.
The couple headed to Panam because their village Party secretary, Shi Wenjing, was one of the local cadres sent to help Tibet in 2000. Shi was a big fan of Zhang's greenhouse planting technique, and he encouraged the couple to come to Tibet with him to share their farming skills and experience.
In 2000, seven couples, all from Zhang's village, went to Panam.
Zhang vividly recalls the county's situation back then.
"The road was muddy and there was no electricity. My wife and I used candles to see at night. That was what struck me most, seeing the locals live in such harsh conditions," says Zhang.
Another aspect of the local life soon hit him-Panam's tough climate meant that its residents could grow only potatoes, turnips and Chinese cabbage as vegetables.
"They didn't even recognize the seeds of tomatoes, water melons, green peppers or musk melons. They had never seen those in their lives," recalls Zhang.
In Panam, tomatoes cost about 15 yuan ($2.3) per kilogram. It was nearly four times the price of what Zhang was used to.