The ivy league village chief
A Yale graduate has transformed a rural settlement in Hunan province, Chen Nan reports.
Qin Yuefei first arrived in the village of Baiyun three years ago. The village in Hunan province - with narrow country lanes and similar-looking farmhouses - was a stark contrast to the New England residences and lecture halls of Yale University, from where Qin had graduated.
Villager Bin Hongying gave him a lift on his motorcycle to the four-story building where Qin was due to take up his post as the village Party chief.
Since then, Qin has applied such techniques as crowdfunding, e-commerce and public relations he learned at Yale in rural China. He has solved countless family and housing disputes, and helped raise money from the government and private donors to improve local infrastructure.
"We are like family," Bin, 70, says of Qin.
"He has done a lot for us. We hope that he can find a girlfriend and get married soon."
In February, Qin, the first Ivy League village official in China, won the annual Touching China award from China Central Television, recognizing him as one of the country's most inspiring role models.
"Lots of people question my decision. Why would a Yale graduate work in a remote impoverished village? Is he crazy?" says the 32-year-old.
Qin earns 2,000 yuan ($290) a month - far less than many Yale graduates who work in Beijing and New York.
Qin says that he wanted to use his education to help people in rural China.
"What I learned from Yale is how to determine problems and how to use the scientific method to solve them," he says.
"Rural China interests me. The people are down-to-earth and their lives are very real. Also, there are many parents, just like mine, who hope to offer their children better lives and education. I want to help."
Going rural
Before Qin came to work and live in Baiyun village, he worked as the assistant to the head of Hejiashan village, 30 kilometers away.
Qin, who majored in political science and economics, helped transform the village's fortunes.
He raised 800,000 yuan from private and public sources to install street lights, improve irrigation and provide school buses.
In 2005, the Chinese government started encouraging university graduates to work in China's villages to improve rural administration and create more jobs for graduates.
Qin is among more than 220,000 university graduates who serve as village heads or Party chiefs around the country's over 500,000 administrative villages, according to the People's Daily.
Many wondered how graduates like Qin would manage the rigors of rural life.
When Qin first arrived in Hejiashan in 2011, he took morning showers, which villagers regarded as wasteful.
To gain their trust, Qin mastered the local dialect in three months and began to smoke and drink, which helped him get closer to local people.
Qin continued to pay close attention to the needs of villagers after his move to Baiyun.
"Before he starts his job, Qin talks with us. He respects our lifestyle, and we trust him," says Wang Guangli, the village head of Baiyun, which has a population of 3,000 people with an average annual income of around 10,000 yuan per capita.
Serve for China
Qin was born in Chongqing to two factory workers. His mother, who played the violin and excelled in gymnastics, sent Qin to study English when he was 2. With financial help from relatives, she enrolled Qin in primary schools in Beijing and Shanghai.
In 2005, Qin graduated from Chongqing Nankai Middle School, passed the SAT with high scores and got full marks on his TOEFL exam, which enabled him to receive a full scholarship from Yale.
At Yale, Qin learned about Teach for America, a nonprofit organization founded by Wendy Kopp based on her 1989 Princeton University undergraduate thesis, to recruit the United States' top college graduates to teach in some of the US' poorest areas.
"Sixty percent of the graduates from Yale and Harvard in 2010 applied for the program. Only the best among them can get the job. The number really shocked me. It made me think," Qin says.
The example of Teach for America and his own experience inspired Qin and other graduates to set up Serve for China in 2014, a nonprofit that recruits Chinese university graduates to work in poor villages.
Serve for China recruited the first 30 young people in 2016.
Tan Tengjiao, one of the first recruits, joined Qin in Baiyun.
The 28-year-old from Hunan's Hengshan county graduated from Renmin University of China and worked as a civil servant in Changsha's public security bureau for seven years.
"The life of a civil servant was secure and stable," says Tan, who's married and has a 3-year-old daughter.
"But my job was boring and I wanted to do something challenging."
Value of villages
Qin and Tan helped Baiyun's farmers establish a cooperative in October to produce and sell camellia oil, which is believed to be among the healthiest kinds of cooking oil.
"The local resources are great treasures. The value of those camellia trees had been ignored but now we make the best use of them," says Qin, adding that the fruit can also be made into soap.
By January, the cooperative had made more than 120,000 yuan selling camellia oil online. More ideas, such as building a factory and developing side products, like handmade soap, are planned.
"The success of the factory will attract young people to return to their hometown and work for the village," says Qin, who is also a deputy to Hengyang's people's congress.
One of the collaborators with Serve for China is the media figure Hong Huang, whose project Brand New China is devoted to promoting Chinese designers' clothing, furniture and household products.
"These young people see the value of the villages. They set a good example for young Chinese people," says Hong, who aims to promote the embroidery techniques of the Miao people in Yunnan province.
Qin says the work of a village Party chief is hard, and sometimes he only manages five hours of sleep. Although his contract will end in October, Qin plans to continue his work in Baiyun.
One of his favorite places is the rooftop of his house, where he reads, listens to music and watches nature.
Why would a Yale graduate come to work in a remote village?
"Why not? The food is healthy and safe. The view outside my window is beautiful. And I don't have to pay rent," Qin says.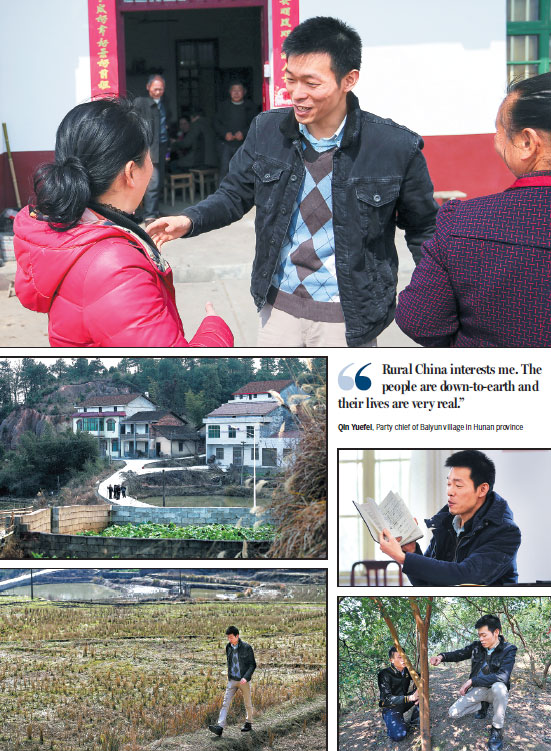 Qin Yuefei has remained devoted to the transformation of a remote village in Hunan province over the past few years. He applies what he has learned at Yale University to help farmers improve their livelihoods by producing and selling camellia oil. Photos By Wang Zhuangfei / China Daily
(China Daily 02/24/2017 page20)