200 million gamers bow down to popular 'King of Glory'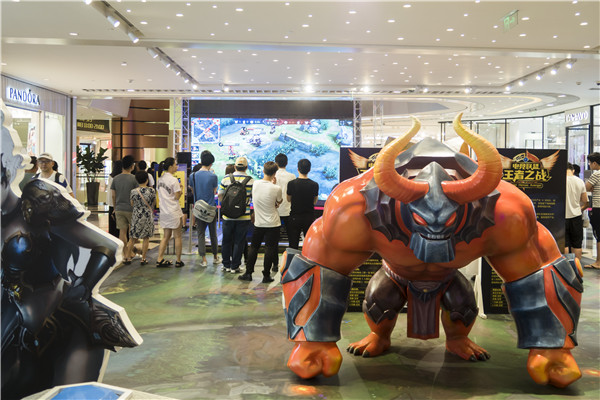 People gather at a department store to watch and play in a King of Glory challenge held by the store in Shanghai. [Photo by Li Sanxian, Yin Ming and Wang Gang/For China Daily]
Playing options
The game charges users for trimmings such as more elaborate costumes, but Li Xin, 34, a State-owned enterprise employee from Xuzhou, Jiangsu province, says that, compared with many other mobile games, "you can still have fun playing King of Glory even if you don't spend any money on it. What matters most is your skill".
Li started to play the game about two years ago, when it was still in its initial development.
He joined a group of players together with his girlfriend and would go online every night.
Two characters in the game cost money-the one based on Ying Zheng, or Qin Shihuang, the first emperor who unified China in 221 BC; and Wu Zetian (624-705), the only female ruler of the country.
Li has collected and consumed 70 characters in the game except for the Wu Zetian persona-it costs more than 1,900 yuan ($284) in a lottery draw to get the character, depending on one's luck, and its costume costs 288 yuan.
"Each character has its own attributes. It's enjoyable when you really like the one you pick," he says.
The game's popularity has spread online and offline among the youth and other social groups, says Tian Feng, deputy director of the juvenile and social issues department at the Chinese Academy of Social Sciences.
"In Chinese culture, such petty or trivial forms of entertainment may be seen to affect the pursuit of more important activities and objectives," he says.
Many Chinese children, for example, used to read kung fu and romance novels as well as visit internet bars and games halls, but their parents would frown upon these activities and get them to focus on their studies instead, he says.
"It's human nature to seek entertainment and each generation has its own way to go about it. The issue here is whether mainstream society approves."
Contact the writer at xulin@chinadaily.com.cn