200 million gamers bow down to popular 'King of Glory'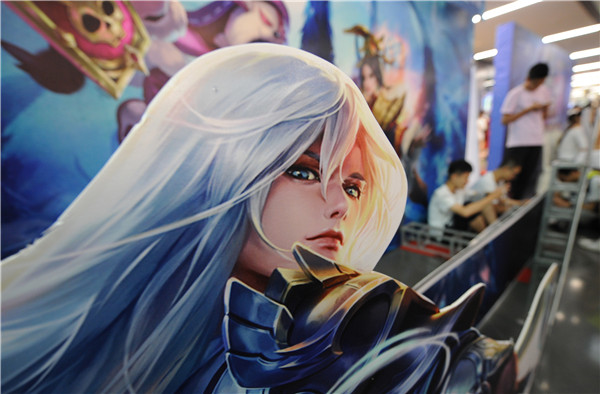 People gather at a department store to watch and play in a King of Glory challenge held by the store in Shanghai. [Photo by Li Sanxian, Yin Ming and Wang Gang/For China Daily]
Entertainment trend
The number of active users of the game increased dramatically this year. The number in May was more than double that in December 2016, according to a report released by online data-analysis company Jiguang.
The game lured about 1.75 million new users a day on average. About 54 percent of the users were females and half had a bachelor's degree. About one-fifth were aged between 15 and 19, and 27 percent between 20 and 24.
About one-quarter of them also had a monthly salary of more than 8,000 yuan ($1,170) and close to half had between 3,001 and 8,000 yuan.
The players liked music, books and livestreaming. They were also interested in ACG (animation, comics and games) and campus community involvement.
Zhao Yun, 21, was curious about the game because many of her classmates were hooked to it.
A classmate once joked that Zhao was behind the times by not playing it, so she downloaded the game on impulse. She was quickly drawn to the game and had to exercise significant self-control to spend less time on it.
The sophomore in Fuzhou, capital of Fujian province, used to read online romance novels in her spare time, but soon found the game to be a new form of entertainment.
"It's really fun to play with classmates and friends. It's like a whole new world to me, because I was not so into games. But this is easy to operate. The characters and their costumes are also very beautiful," she says.
"I used to cling to my boyfriend quite a lot, but I started to enjoy the game, spending less time with my boyfriend. He noticed that and volunteered to join me online."
Luo Juan, 32, from Wuhan, capital of Hubei province, first played the game because her husband wanted them to have a common hobby.
At night, they would play it together when their 19-month-old daughter was asleep.
"It's a good way to kill time, especially when it's hot and I only want to stay in an air-conditioned room," says Luo.
"It feels awesome to defeat others in the game because it's something that needs wisdom and tactics. You need to comprehend the overall situation."
The game also encourages cooperation among teammates, she says.