'Nurseries for Nurseries' school project to be held this year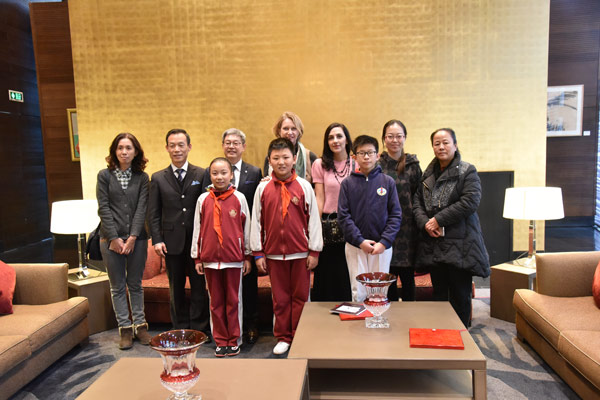 Organizers, student representatives, parents and sponsors pose for a group photo at the French embassy in Beijing. [Photo by Zhang Xingjian/chinadaily.com.cn]
Following the success of the first season of "Nurseries for Nurseries" in 2015, a project in which students plant trees and vegetables, the French embassy in China has decided to continue it this year.
"Twenty-one schools in Beijing and two in Gansu province took part in the project last year. And we truly believe that the number of schools participating this year will double. We will promote the event in more cities in China," said Amanda Galsworthy, the spouse of the French Ambassador to China.
"This initiative is unique in China. Many children are under pressure in schools. We want to strike a balance between study and life among students. When they are off class, we encourage them to get in touch with the nature, and the first season generated huge enthusiasm on the part of all stakeholders, including children, teachers, and volunteers," said Xu Jiali, a teacher working at the Peking University Elementary School, Shijingshan Campus.
Anaïs Martane, wife of renowned Chinese actor Liu Ye, will be this year's patron and support the activities of the project throughout its second season.
The "Nurseries for Nurseries" competition is a friendly contest in which participants plant and grow vegetables in kindergartens and primary schools. The goal of the educational project is to encourage children to learn to care about their environment and take an interest in healthy eating and living.