Gifts of the heart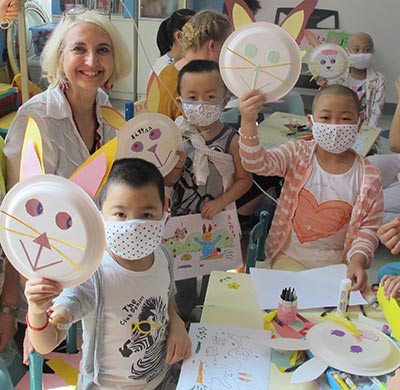 Jeanne Riether does resilience activities with children who are getting treated for leukemia at a Tianjin hospital in 2015. [Photo provided to China Daily]
For Jeanne Riether, volunteer work has been a focus of her life no matter what part of the world she's found herself in over the past few decades.
"When you actually realize you are finding a way to make a difference to someone's life, you want to do that for the rest of your life," says the 60-year-old humanitarian worker from the United States.
China will mark its first National Charity Day on Sept 5, in a sign of the growing significance of charitable efforts, including volunteer work.
Growing up in Connecticut, Riether was drawn to Asia since she was young. She lived and did humanitarian work in several Asian countries, such as Nepal, Malaysia, Thailand and Indonesia, before coming to China.
Her first visit to China was in the mid-1980s. She was working in Kathmandu for a travel magazine and was invited to visit the Tibet autonomous region, Chengdu and Kunming by China's tourist authorities.
"Then, I just always wanted to come back to live in China someday. It's just one of those things you don't forget. And about 10 years later, I really did," she says, laughing.
Riether has lived in several Chinese cities, such as Chongqing and Harbin, mainly doing voluntary work and teaching at school.