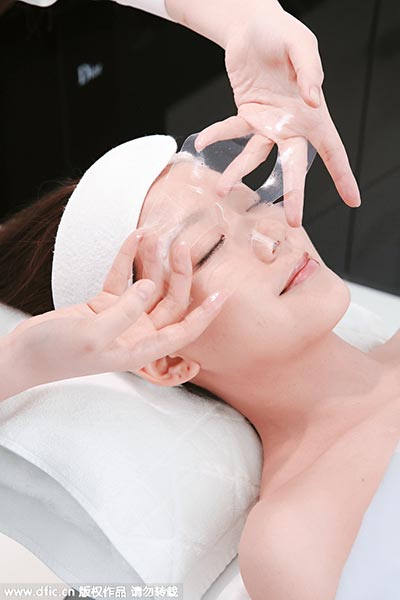 A woman gets a whitening facial mask treatment. [Photo/IC]
White skin still means beauty among Chinese Internet users, according to a report by China's search engine giant Baidu Inc.
The number of searches for cosmetic products has increased dramatically, to about 37 percent year-on-year, while whitening products account for 70 percent of all searches, suggesting a trend that porcelain-pale skin still remains the hallmark of glamorous women in China.
According to the survey, skincare products account for 66.4 percent of all cosmetic searches, while make-up accounts for 30.9 percent and perfume, for less than three percent. In terms of skincare functions, 67 percent of Chinese women choose whitening products.
The report reveals that whitening and anti-aging are top female concerns in choosing skincare products, said Li Xiaolong, co-founder of Baidu Distributor Institute.
The most searched-for topic on mobile terminals is "How to whiten skin," reflecting the deep-rooted aethestic standard that being white is beautiful, he added.
In addition, 30 percent of young users born after 1995 and 2000 also began to search for cosmetic products.
Consumers are becoming more curious about perfume, especially its price, scent and fragrance, it was added.
Related:
Diet makes difference in skin's health