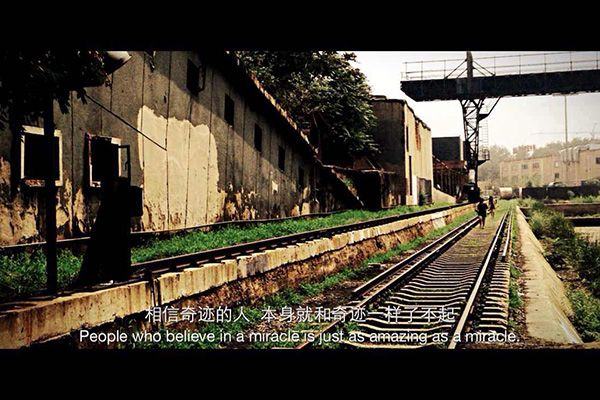 A picture taken and produced by a FotoPlace fan at the recent FotoPlace salon in Beijing's 751 Art District. [Photo provided to chinadaily.com.cn]
Yang Liu, the founder of the mobile app FotoPlace, comes across as the consummate artist. At a recent salon at Beijing's 751 Art District, she wore a white cotton blouse, a long dark brown linen skirt, and a pair of silvery white flip-flops. With her thick black hair tied back, she exuded the air of a bohemian.
Yang's voice is neither harsh nor gentle. She speaks in a soft, measured cadence, and when excited, she talks fast and almost without pauses. After the interview, she sent a text message with a red-faced emoji apologizing for not expressing herself properly, revealing a self-deprecating charm that unites her roles as a CEO and an artist.
Despite being a CEO in her thirties, she gets nervous and blushes sometimes. But she is determined and knows exactly what she wants to do and how to perfect her products.
Yang said her team has been consistently fixing bugs to improve user experience since this March, when FotoPlace's "movie mode" photos swept Wechat, making FotoPlace rise to the number one place in Apple China's App Store, even causing the server to crash.
In less than a month after March, FotoPlace's smash hit – photo montage clip editing function - has been copied by many picture processing apps, and FotoPlace is no longer in the number one place in China's Apple's App Store. But Yang Liu said she doesn't really care.
"Whether it is popular or not, I have to better FotoPlace," Yang said, adding that "I want to make FotoPlace easier to use and help people who are not expressive enough record their lives through pictures." When she says this, she gets elated and excited, which gives you the impression that the app must meet her exacting standards before she is fully satisfied.