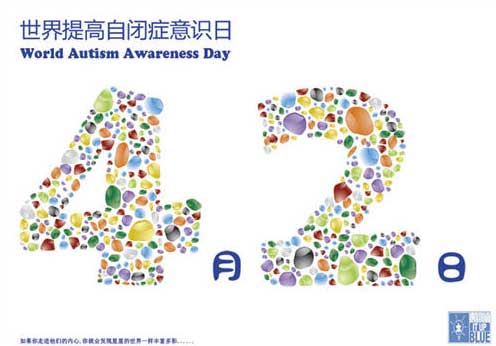 Poster for World Autism Awareness Day. [File photo]
Celebrity TV presenter Ju Ping has been a host on China Central Television for 30 years, but her recent experience fronting a charity event was one of the most special moments in her career.
On April 2, World Autism Day, Ju partnered with Xia Junqi, a 17-year-old autistic teenager, to host a charity gala at the Beijing National Aquatics Center, otherwise known as the Water Cube.
The event was organized by One Foundation, which aims to increase public awareness of autistic people and their needs.
Autism is a neural disorder that impairs sufferers' communication skills and social interactions. Sufferers have restricted, repetitive patterns of behavior. It affects about 1.6 million people in China, with medical studies suggesting autism may effect one in every 166 children.
Autism has no cure. For many years it went largely undiagnosed in China but early intervention and continuous education may help to teach the autistic self-help skills and lessen their disruptive behavior.
The gala featured autistic children singing, dancing and performing, and was greeted with enthusiastic applause from the audience.
Cai Chunzhu, a celebrity playwright, recalled feeling heartbroken when his son was diagnosed with autism at the age of 2. He says his family struggled to accept the reality but finally made peace with the diagnoses in the past four years. He says the boy lives in his own world and is trained in an intervention facility. Sun Zhongkai, executive director of the Beijing Stars and Rain Institute for Autism, one of the earliest intervention facilities for autistic children in China, shared with audience his deep sorrow for parents who often collapsed with desperation when he told them there was no cure for their autistic children.
Over the years, Chinese society has become more supportive of autistic people and their families, but there are still challenges in terms of getting autistic people employed and looking after them when their parents pass away.
Actor Zhou Xun also called on society to show greater understanding and support toward autistic children and their families.
Related:
Placenta capsules give birth to controversial health trend
Australian scientists discover unique way to prevent dengue fever