M-health carves out path to new direction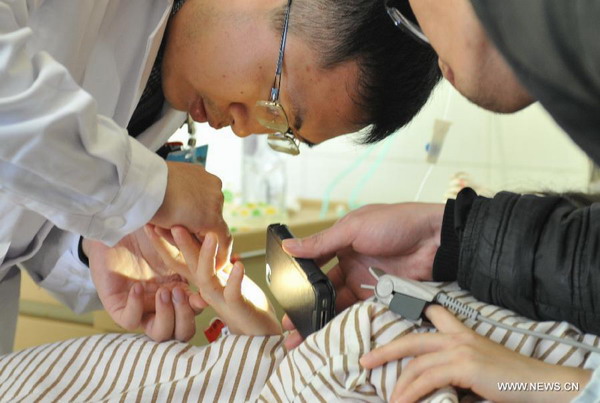 A doctor removes glass from a victim's hand who is injured of a bus fire at the No.1 Hospital in Xiamen, Southeast China's Fujian Province, Jan 15, 2015.[Xinhua]
IKang Healthcare Group released an app early this week, providing personalized healthcare services to avoid the "unnecessary" medical recourses wastes on the health check industry.
The app named "iKang health check" can be downloaded for free on tablets or mobile phones, which provides two private health evaluation systems after registration.
The brief system consists of a questionnaire that takes about three minutes while another system, which usually needs 10 minutes, will ask for more personal health information to specify the details of physical check solutions.
Both systems will give registered users personalized suggestions on each item of medical checkup he or she should take this year, based on the user's previous physical check results, gender, age, and history of disease.
The system will also provide basic medical knowledge on the potential disease the user's may have. Through the app, users can also make an appointment for checkups in any of iKang's checkup center nearby.
"Previously, physical checkups provided by companies were simply divided into few kinds: male or female, married and unmarried. The items usually kept the same year from year," said Zhang Ligang, Chairman and Chief Executive Officer of iKang.
"Such checkups are not only a waste of medical resources, but also could hardly detect the real health problem," Zhang said.
He said internet brings more possibilities to the health industry and mobile health will be a potential trend that provides people with a "private medical butler" at home.
China's health management service market had witnessed a rapid growth from 73 billion yuan in 2009 to 87 billion yuan in 2013, according to the statistics from Health Management Forum 2014.
And the industry is estimated to reach 317 billion yuan by the end of 2020. Physical checkups services had been a major part, which shared 60 billion yuan of the market in 2013.
Related:
China pledges education, hospital, juror system reforms