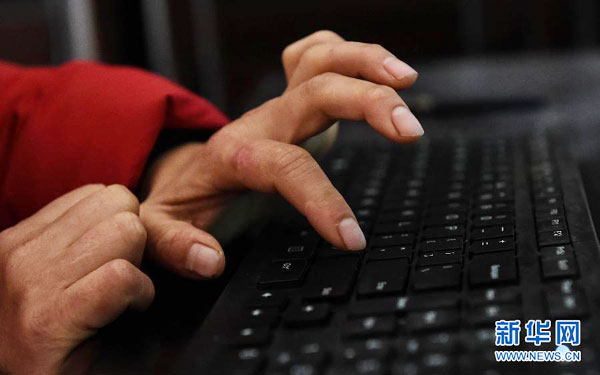 Chinese farmer Yu Xiuhua types with her left index finger.[Photo/Xinhua]
Putting her feelings into words has always worked for Yu, but she does not intend to teach or preach.
"When I'm not happy, I write it down, and the words are basically an expression of my mood at that particular moment. I do not write in order to show something," says Yu in an interview with People's Daily Online.
"I never think of what I should write about in poems or how to write them. When I'm worried about my life, I don't have the luxury to care about where my country is going, nor where human beings are heading. If I happen to be writing about these matters, it is because they touched me, warmed me or really made me sad or worried," said Yu.
Compared to her words that flow elegantly with no difficulty, Yu's physical posture is nothing but smooth.
Yu shakes her head when she talks, and her speech stutters sometimes. The habit also shows in her walk, as she stumbles to move across the room. When she types, she presses the keyboard arduously solely with her left index finger.
"You can talk to her about her physical condition, her husband and child, her attitude on love, and domestic violence she's suffered in her past," Liu says.
"There's no barrier for you to reach down to her heart, you can easily walk in."