Wish Box opens new ways to warm the world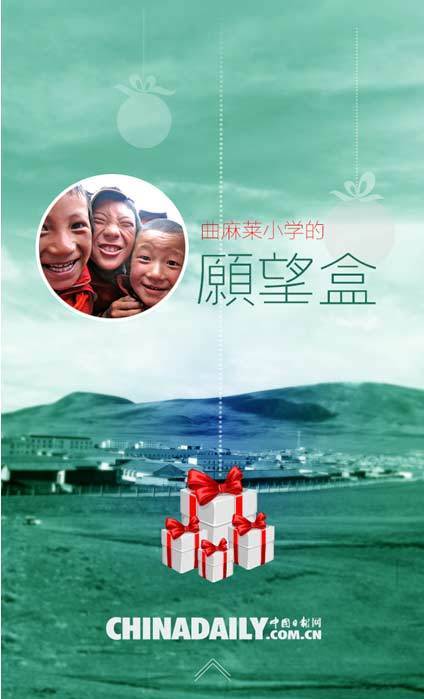 Yong Zangcuo wants a hat for her mother.
Yongsuo Chanma hopes her dad can get cotton-padded clothes.
Qie Ge wishes her father had a sweater.
And the children believe their wishes may come true, thanks to the Qumalai Little Students Wish Box (曲麻莱小学生愿望盒) Web app China Daily launched on Dec 16 in cooperation with the nonprofit StepUp!.
The Wish Box is an innovative approach to crowdsourcing poverty solutions by putting potential donors in direct contact with nomadic children who live on the isolated fringes of Qinghai province's Yushu prefecture.
The children are the first generation to attend school in the impoverished yak-herding communities surrounding Qumalai county. Elevations up to 4,800 meters mean it snows about 10 months a year and farming is impossible. More than 90 percent of locals survive by herding.
"The Wish Box enables children and compassionate people to work together to provide some of the children's and families' basic needs so the kids can focus on their studies to enjoy a brighter future than their parents," says China Daily Life assistant director and StepUp! founder Erik Nilsson.
"These communities are extremely remote and geologically hazardous. Wish Box enables otherwise rare contact between two very different worlds in one country. It shows a new way in which technology can empower children and compassionate people."
Nilsson explains parents previously believed kids should herd to feed their families rather than study but now place their hopes on their children's education.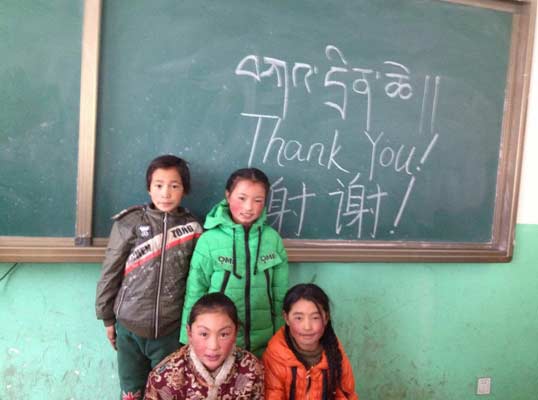 "Many children asked for things for their parents, rather than for themselves," says local teacher and StepUp! field-project leader Tseringben.
"They appreciate the hard lives their parents endure to provide for them."
One boy's wish reads: "I wish my dad had warm shoes. He herds early in the morning. I don't want him to fear the cold anymore."
One challenge is users must answer wishes through the post office, since delivery companies don't cover the outlying county, China Daily mobile app editor Celine Chen says. But Wish Box enables those without time to ship something themselves to instead donate 20 yuan through China Daily's online shop before Christmas, and China Daily will send a pair of gloves to a child.
"This can be a beautiful story for people who bury themselves in work and life," Chen says.
"They can help someone they don't know. A coat, a book or a pair of shoes can't change a child's fate entirely, but it's a start. Rich or poor, children should have equal chances to make New Year's wishes. I hope to create a bridge between donors and children."
Nilsson founded StepUp! in 2011 to provide solar panels, computers and 3GWiFi to schools without. The nonprofit also gives medicine to schools with high student illness and mortality rates, coal, books and study materials. It also buys food for the poorest families.
"The Wish Box empowers more people to be more directly involved in building a better, fairer society," Nilsson says.
"When we share clothing with those without enough in cold places, we not only bring warmth to those individuals but become the warmth of the world."
Contact:
Erik Nilsson
erik_nilsson@chinadaily.com.cn
Celine Chen
Chenlin@chinadaily.com.cn
To open the box, please scan the QR code: