Chinese sign language video dictionary is a first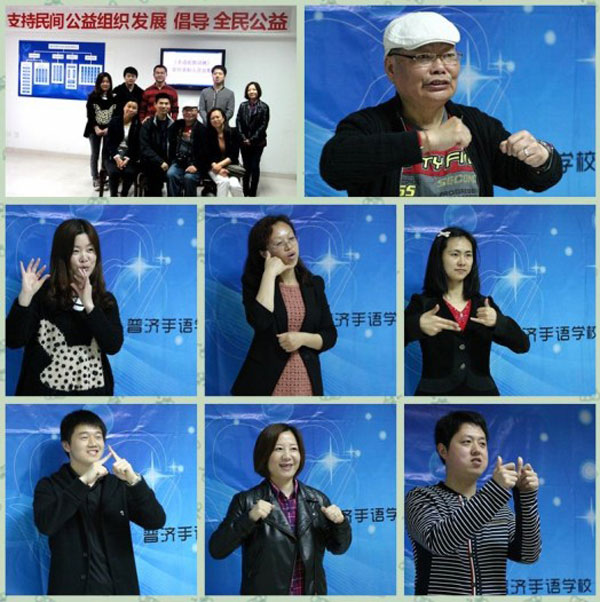 Volunteers participate in a program to make the video dictionary of Chinese sign language. [Photo provided to China Daily]
A recently compiled online video dictionary of Chinese sign language is getting much attention on the Internet. Liu Zhihua reports.
A charity in Wuxi, Jiangsu province, recently made national headlines with its video dictionary of Chinese sign language, which is reported to be the first of its kind.
"We didn't expect such extensive media reports on the video sign-language dictionary and are surprised to receive lots of interview requests nowadays, both from local media and those from other provinces," says Hong Jian, director of Puji Charity, which helps local people with hearing and speaking disabilities.
"When we started the program, we just wanted to encourage the public to learn sign language to communicate with those who cannot hear or speak."
There are lots of sign-language dictionaries and videos teaching students in special education schools how to "speak" sign language. But it is the first time in China that videos teaching Chinese sign language are arranged in alphabetical order, and it is searchable, Hong says.
The charity was officially registered with local civil-affairs authorities in 2012. It was created to help the physically challenged, elderly people living alone and families in financial crisis because of severely ill members. But people with impaired hearing are the primary beneficiaries for whom the facility provides help.
According to government statistics, China has more than 20 million people with severe hearing loss. In Wuxi, the population is about 8,000.
Thanks to modern technology, with help of special training and hearing aids, many children born with hearing loss are able to hear and to learn how to speak like their peers.
However, those who missed that chance when young cannot speak or hear properly and have to rely on sign language to communicate.