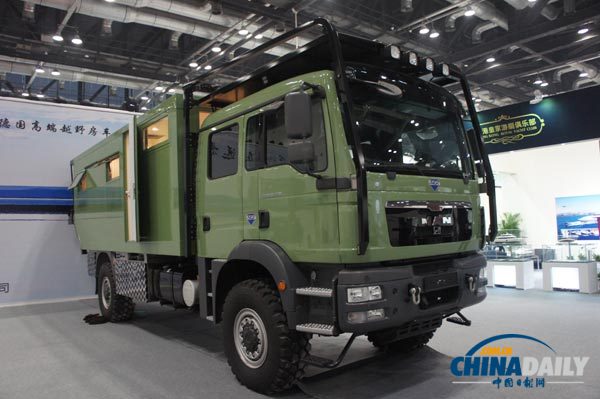 An UNICAT 4x4 off-road vehicle. [Photo/chinadaily.com.cn]
Luxury may not be reflected by what's on the outside – that's what off-road vehicle maker Unicat believes.
"Our initial mission was to make the safest RV that could be used as off-road vehicles. What differentiates it from other RVs that this is specially designed to tackle extreme road and weather conditions," says sales manager Peter Zhang.
How extreme?
Unicat RVs can tolerate a temperature range of -45 to 50 degrees Celsius. It can climb slopes up to 36 degrees versus 20 degrees by other vehicles. Its tires can withstand water buildup up to 80 cm. With a full tank, the vehicle can run from 1,500km up to 3,000km. It can store 600L of water, enough for two people to use for up to one week.
What's more, customers can customize the car to their wishes, from the color to inner décor. All parts are made in Germany and the car takes about one year to 18 months to assemble, also in Germany. The price ranges from 8 million yuan ($1.3 million) and up, with no upper limit.
The good news is, consumers can drive Unicat RVs wherever they want, whenever they want.
"The market for road vehicles in China is warming up. There are still restrictions, such as lack of adequate number of camping sites and road limitations, but our future is bright," says Zhang.
"We don't define luxury as how glamorous the car may look. Luxury to us is, if you drive this car, you can go places that no one else can. You can see what others may not see in a lifetime."