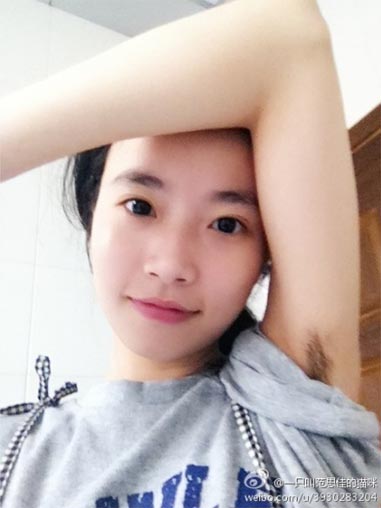 Sina Weibo user kittiefansijia shows her armpit in this file photo. [Photo/Sina Weibo]
In March, American pop singer Madonna posted a photo showing her underarm hair on the photo-sharing social platform Instagram. Her photo caption referred to freedom and revolution of love.
"It's easier to hold an armpit hair contest in China due to the cultural differences between China and the United States," says Lyu Pin, a Beijing-based women's rights activist.
Lyu says that women in China only began shaving their underarm hair around 20 years ago. Even nowadays, it's not as popular as many people think. But in the US, it's something of a taboo for women to have leg or underarm hair.
"If people think you are not beautiful or have no etiquette, just because you don't shave your underarm hair, I don't think they are doing the right thing," she says.
"The decision whether or not to shave your underarm hair is restricted by social norms," she adds. "I don't think Chinese have to learn from the Westerners to shave their underarm hair."