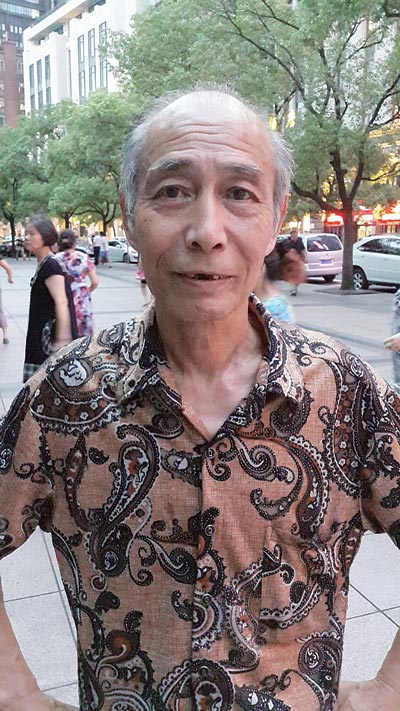 72-year-old Qian Minyue, a fan of group dancing. Photo provided to Shanghai Star
Wearing a polo shirt and black pants, 72-year-old Qian Mingyue raises his arms and turns around, timing his moves to the beat of an upbeat melody.
A group dance fan and amateur coach, Qian insists on dancing as often as possible, come rain or shine. Even during the Spring Festival, when most Chinese reunite with their families, Qian still made time for group dancing.
Although he is one of only five men among the 50 dancers in his group, Qian says he's not embarrassed about dancing in public. For him, it's a good way to exercise and stay fit.
"When I am dancing, I completely forget my age," he says. "Only when we are moving does our life have meaning."
As the most senior and respected dancer in his group, Qian began organizing group dances near People's Park two years ago. He comes to the spot around 7 pm nearly every day, with a loudspeaker in hand.
"This kind of dancing is easy to learn and perform," says Qian, a retired employee. "Even people at my age have no trouble enjoying it. It is not like some other dances, such as ballet, which have a high degree of difficulty."
Qian su4 ered from high blood pressure but refused to take medication. Instead, he was surprised to learn about the positive healthy effects of dancing.
Qian learned how to dance by watching videos online and practiced his moves alone near his home early in the morning. Eventually, his neighbors joined in.
"This happened naturally and spontaneously. No call, no notice," Qian says.
He knows all of the dancers in his group and is always welcoming newcomers, no matter their age or nationality. In his spare time, he is online searching for new songs and moves to add to his choreography.
Qian shares his ideas with the group, and when they find something they like they teach it to the others. The group is committed to learning a new dance each week.
In December 2012, Qian's group was invited to dance in front of a Shanghai TV station's camera crew. Qian said the experience was thrilling.
"Some people say such group dance affects the image of this international metropolis. However, what should we old people do if we are not allowed to dance? We don't play mahjong, and staring at the TV or computer screen for too long would kill us."