How to get better sleep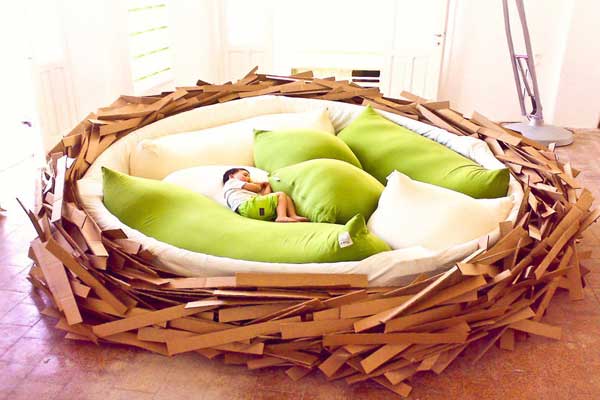 This giant bird's nest is made for people to use as a bed, children's playground or even a meeting space. [Photo/IC]
A run of sleepless nights is not only frustrating, but also physically and psychologically damaging, affecting work, relationships and social life.
A Champagne-fueled English breakfast certainly eases the creases on the brow, especially if it is worked off with a good exercise regime in the pool, gym or both after the inevitable nap.
A sauna and steam room experience followed by a cold shower also makes the body feel as if it has done itself some justice.
The UK's National Health Service (NHS) also has some good pointers in what it bizarrely calls "good sleep hygiene".
First, it suggests a visit to the doctor to establish whether there is an underlying medical problem such as apnea, which means your body stops breathing when you drift off, causing you to awaken in panic as you start to suffocate. This can lead to permanently dark rings around the eyes and a permanent lack of energy.
The NHS also recommends a fixed time for sleep, as well as waking and getting up at a regular time. More obviously, it says people should relax before going to bed. Do not take your mobile device with you. Avoid staring at screens.
Maintain the temperature at a reasonable level: not too hot or cold. And make the room as dark as possible. Indigo Pearl provides soft eyewear and earplugs to help.
The NHS also recommends no napping during the day, a common sight in many Chinese offices. It also says do not take caffeine, nicotine or alcohol late at night. The booze might relax you, but the sleep will be poor.
Exercise in the morning or the middle of the day is good, but not within four hours of retiring. Think of the endorphins with which it infuses your body: they ready the body for action.
Don't eat a heavy meal before hitting the sack. It'll disturb your sleep and make you put on weight. They can also cause tiresome dreams. Don't watch the clock: it causes anxiety.
Finally sex, especially for men, releases a chemical that induces drowsiness. Sadly, for some women, the opposite can be true. However, it is a good idea to treat the bedroom as sacred for just sleep and carnal relations.
The doctor can prescribe sleeping tablets, but these should be regarded as a last and short-term remedy. Various homeopathic treatments, such as the herb valerian and the hormone melatonin, are available from pharmacies in many countries. But, again, the body can become too reliant on them, so use with caution.
Most of all, your first port of call should be your doctor's.