Sleep appzzz ...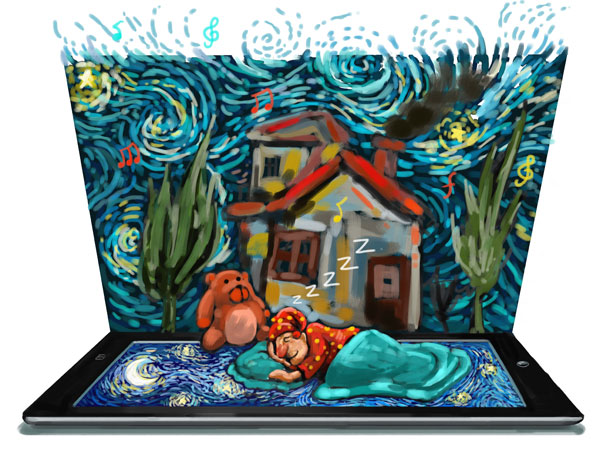 Li Feng / China Daily
Tired of counting sheep to make you sleep? Turn on your smartphone. Liu Zhihua says apps can help you have a good night's rest.
Sleep is important, and having trouble getting a good night's sleep can be torturous, especially for urbanites who have to deal with pressure at work all day. There are countless home cures, and we have been told to take stock of sheep hurtling over gates, or listen to adult lullabies like long orchestral works. These days, however, your friends may tell you to go to the app store instead.
Que Yuewen, 28, from Chengdu in Sichuan province, is having fun with her new sleep app. As a nurse, she has to work night shifts, and she finds it difficult to fall asleep.
She lies awake playing with her smartphone and mini-tablet and it was during one of these sleepless sessions that she decided to do a search to see if there were any apps that could help her sleep.
There were, and she decided to try one with the best reviews and positive comments.
It was an app that broadcasts soothing music and the sounds of nature. Que set the timing to 30 minutes, since it normally took her about an hour before she drifts off.
To her surprise, she woke up the next morning having no idea when she slept.
"It is amazing," Que says. "I have never fallen asleep so easily."
In fact, on both the Google Play store and Apple App store, there are hundreds of apps that claim they are designed to improve sleep, and the most popular ones have already got hundreds of thousands of favorable comments.
Related:
Online social networks, chatting services and gaming are keeping young people up at night and disturbing their sleeping patterns. More...
Sleep issues still ignored in China: report
A large percentage of the population in China has problems getting a good night's sleep, but people are not paying enough attention to the issue. More...
Another day begins with the shrill call of the phone's alarm. Where are you? Open your eyes. Turn the alarm off, a swig of water unglues your tongue and you start working out on your apps. More...