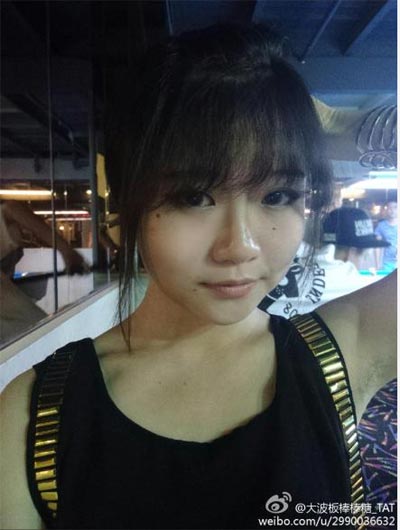 Sina Weibo user Dabobanlollipop_TAT shows her armpit in this file photo. [Photo/Sina Weibo]
Coco, a young woman who doesn't want to reveal her name, posted a photo of her armpit covered with a piece of gauze. She said her armpit had been infected because of plucking, and she had to have it cut open and treated.
"What a lesson! I suffer a lot. I dare not pluck armpit hair again in my life," Coco posted on her Sina Weibo.
Another young participant, Alice (not her real name), says she's proud of her armpit hair and thinks it's sexy, so she never shaves it.
"It's healthy for young women to not shave underarm hair. I think such point of view should be promoted via the contest," she says.
Netizens in other countries have expressed similar views.
Since 2012, an event in the United Kingdom called Armpits 4 August has urged women to grow their armpit hair for a month to raise money for the charity organization Verity, which does research and helps women suffering from polycystic ovary syndrome. One of its symptoms is excessive body hair growth.