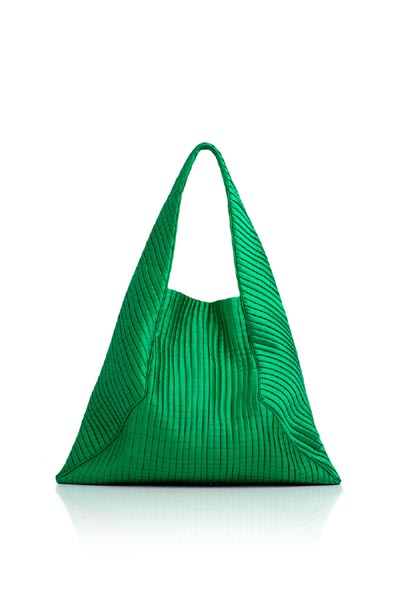 A handbag designed by Zhang Xi. Photo provided to China Daily
It may seem odd to think of silk as "strong", but back in the 15th century, the delicate material was used to make the sails for the huge fleets commanded by Zheng He, a famous Chinese explorer who undertook many wide-ranging expeditions on behalf of the Yongle Emperor (1360-1424).
Zhang experimented and explored various patterns and textures for 18 months, "a brainstorming period" as she calls it, and hired a tailor to help her make the bags. She formed the habit of carrying a piece of silk with her wherever she went, and when time permitted she would take it out and become absorbed in creating new textures.
Zhang designed more than 30 textures for dozens of bags, which quickly caught the attention of her friends, and then her friends' friends. Having opened a small outlet at a high-end shopping mall in Shanghai's downtown in March, Zhang quickly discovered that demand outstripped supply, because her production team has just two skilled tailors.
Only people who are good at making clothes have the ability to make silk bags, she says, and Shanghai has many experienced tailors. That's why her silk bags are comfortable to carry and feel like silk clothes.
"Although my customers have to wait one or two weeks for their bags, they're happy to do so," Zhang says, adding that she's unwilling to run the risk of producing inferior items by raising production levels.
The bags are priced from 2,000 ($322) to 6,000 yuan, and Zhang's middle-class customers say they're bored with big name brands such as Louis Vuitton, Channel and Prada so they're looking for unique items that match their own styles.
Driven by customers determined to pursue their own styles, independent designers such as Zhang have risen rapidly in the world of fashion.