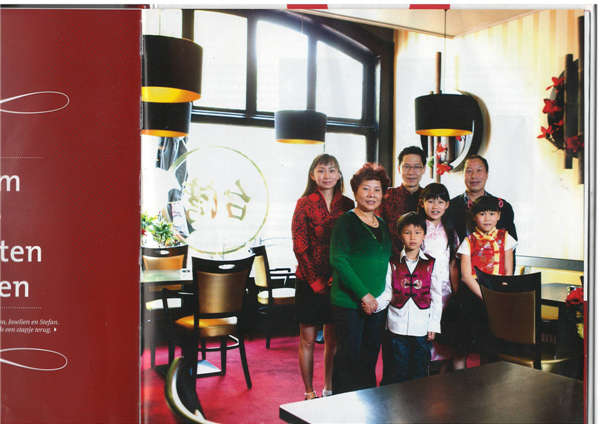 Feng Chan (second man from the right) with his wife, children and parents at the family's Chinese restaurant in the Dutch city of Zwolle. Photos Provided to China Daily
Chinese parents' children raised overseas exist in a realm between their passport and visa countries. Tiffany Tan reports.
Feng Chan considered himself one of the local boys. He went to a Dutch school, hung out with Dutch children and spoke Dutch fluently. But he did feel uncomfortable every time he saw his friends being greeted by their parents with a hug. Or whenever parents kissed around their children.
Unlike many of the kids in the city of Zwolle, Chan and his two sisters and brother didn't sign up for activities outside school. They didn't take swimming lessons, music lessons or join sports clubs.
When they got high grades in school, instead of receiving praise from their parents, like the other kids did, they were often told how they could have done better.
And his father's and mother's names were big mysteries to the boy. While his friends were calling their parents by their first names, Chan only knew his as "pa" and "ma".
As new immigrants to the Netherlands in the late 1970s, his parents were too busy growing a restaurant to take their kids to after-school activities. Like many traditional Chinese, they didn't easily express affection physically or verbally, and brought up their children to respect parents' position of authority.