How I help to bridge the gap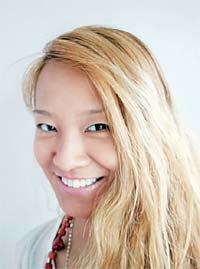 April Li is a teacher working at Community Center Shanghai where she has been teaching Chinese to foreigners for more than six years. Photo provided to Shanghai Star
For the past six years, I have been working and living with foreigners. Being in a foreign country is difficult, especially when it is as different a place as China, and the language barrier only makes it harder.
In my experience, my students positively try to be involved more in the culture and life here. I will always remember the students who have only been in Shanghai for one or two months and have been studying Chinese for only one or two weeks.
When they come back to class, they tell me their success stories of getting a good deal in the market or how they got home in a taxi with their basic Chinese.
These stories really move me. Living a life immersed in a foreign language, they understandably feel blind. I hear their experiences of knowing nothing about the language and how learning some character or small phrase suddenly opens their eyes, making me love and appreciate how important my job as a Mandarin teacher is.
Despite wanting to be adventurous, there are many understandable reasons why they might be a bit hesitant to try the more "local" Chinese food.
See our Hot Pot Column for more stories by expats in China